Women in policing
March 08, 2021
To celebrate the International Women's Day "Women in Leadership" theme, we talked to four female Red Deer RCMP officers to learn about why women in policing is so important.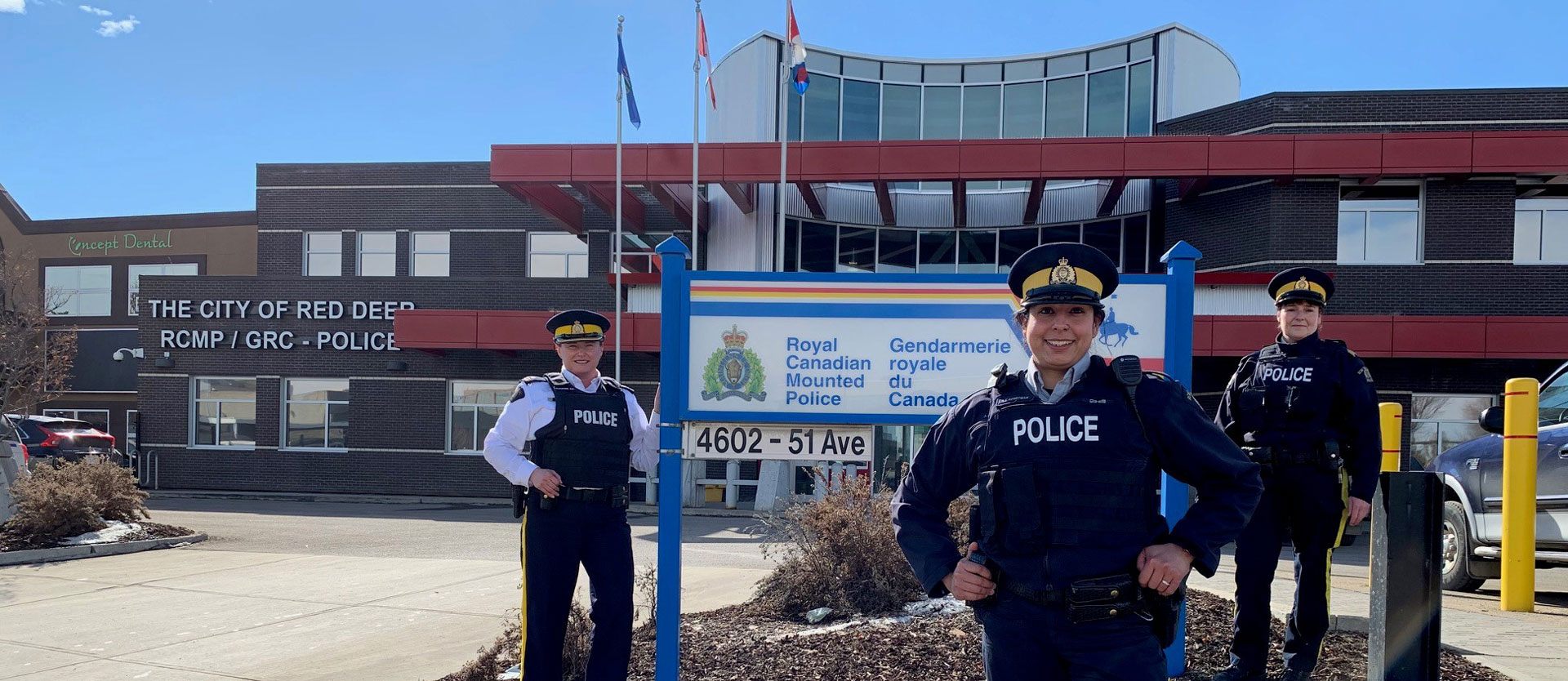 In recognition of International Women's Day, four Red Deer members in leadership roles reflect on their policing careers and the ways in which women make the Red Deer policing team stronger.
Though women in policing is no longer a novel thing (the first Troop of women were accepted into the RCMP 47 years ago), Red Deer RCMP continues to focus on developing women within leadership roles.
In the Red Deer City detachment, 32 of the 175 members identify as female. Inspector Holly Glassford is one of the most senior leaders in Red Deer, responsible for overseeing the operations of various units in the detachment, including the Crime Reduction Team, Domestic Violence Unit, Community Policing, Victim Services, and the General Duty Watches.
Her counterpart, Staff Sergeant Marlene Brown supports the other half of the detachment's operations, in an acting Inspector role. She works closely with the General Investigation Section, the Downtown Patrol Unit, and Traffic Services.
Having been in policing for over 20 years, they have seen many changes, including the number of women working alongside them and filling higher ranks within the organization.
"I think it's important to have women in leadership roles within the RCMP because we bring a different mindset to the table. Diverse opinion makes us stronger as an organization," says Insp. Glassford.
S/Sgt. Brown echoes those sentiments, adding, "Everyone brings their own talents and skills to the team, and unique perspectives are so important."
Having women in the force is a huge asset for the Red Deer RCMP, and they bring a different perspective to dealing with victims and building relationships with the community.
In her role as the Non-commissioned Officer in charge of the Community Response Detail, Sergeant Karyn Kay supports Community Policing and Victim Services, as well as builds relationships with support agencies in Red Deer. Having worked in family violence for nine years, Kay understands the impact an officer can have in a person's life.
"When you can remove a dangerous person from a bad situation and hold them accountable for their actions, it's so rewarding. You know you're improving the life of those they were hurting," says Sgt. Kay.
Last, but not least, the "newest" member (with over eight years of experience herself), acting Corporal Arminder Augstman leads the Domestic Violence Unit at the Red Deer detachment. While she says the best days are often too infrequent, she reiterates Kay's point.
"As an officer, you're there for a person's worst moment. So when you feel you have made a difference, big or small, that means so much."
Regardless of how each woman started her career, how many years on the force, or how many postings they've had, the reason they were drawn to policing are very similar: making a difference in people's lives.
They also agree on another thing: while incredibly rewarding at times, the job is not an easy one. So what do these women say to young women and girls interested in becoming a police officer?
"Policing is a very challenging career on the mind, the body and the spirit, but a job in public service can be so rewarding."
"There are times when something you say or do helps a victim get out of an abusive situation, and gives them the chance to get connected to supports."
"Recognize and appreciate the contributions you can bring to policing."
"I think having full participation of women in leadership roles within the Red Deer RCMP is very important to empowering young women."
Lastly, when speaking to the future role of women in the RCMP, Insp. Glassford added, "There's more work to be done. The RCMP recognizes the value of having a culturally-diverse workforce to better serve our communities."