A small stop makes a big difference
June 01, 2020
Three-year-old Zach waits at the window every Tuesday afternoon for the Waste Management crew to drive by on their regular pick-up route.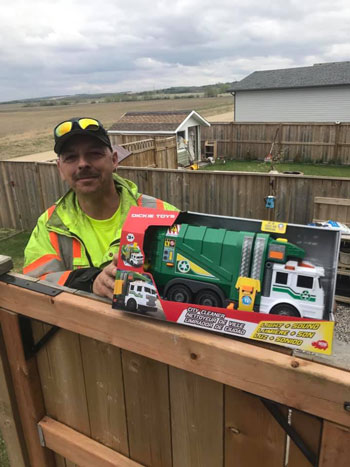 The driver, recognizing Zach's excitement, has started to pause and take a moment to smile and wave to him as he passes. Recently, he took one step further and briefly exited the vehicle so he could smile and wave to Zach, who erupted with joy at seeing his new friend.
Zach has been diagnosed with Autism and is non-verbal, so to see him jump up and down with excitement warmed the hearts of his parents, Ryan and Samantha. Ryan immediately took time to write to Waste Management to thank the driver and explain why his small gesture meant so much to the family.
The following week the driver, John, delivered even more excitement when he gifted Zach a toy garbage truck. Zach was waking up from a nap and didn't fully realize what was happening at the time, but was very excited once he was fully awake. He loves his new truck, and his parents love to see him so happy.
"I truly feel that small things like this mean a lot especially in the trying times we are all in during the Covid situation globally," said Ryan. "As a manager myself, I truly appreciate when my people go out of their way and give that little extra touch, too often we do not do these things. A simple wave and smile can make someone's day and make things a little brighter."
Thank you, John, for sharing kindness in our community.