Artistic perseverance during a pandemic
June 18, 2020
Like many recent events, the twelfth annual Hang-Ups and Insights: AP/IB Artshow was forced to go online this year.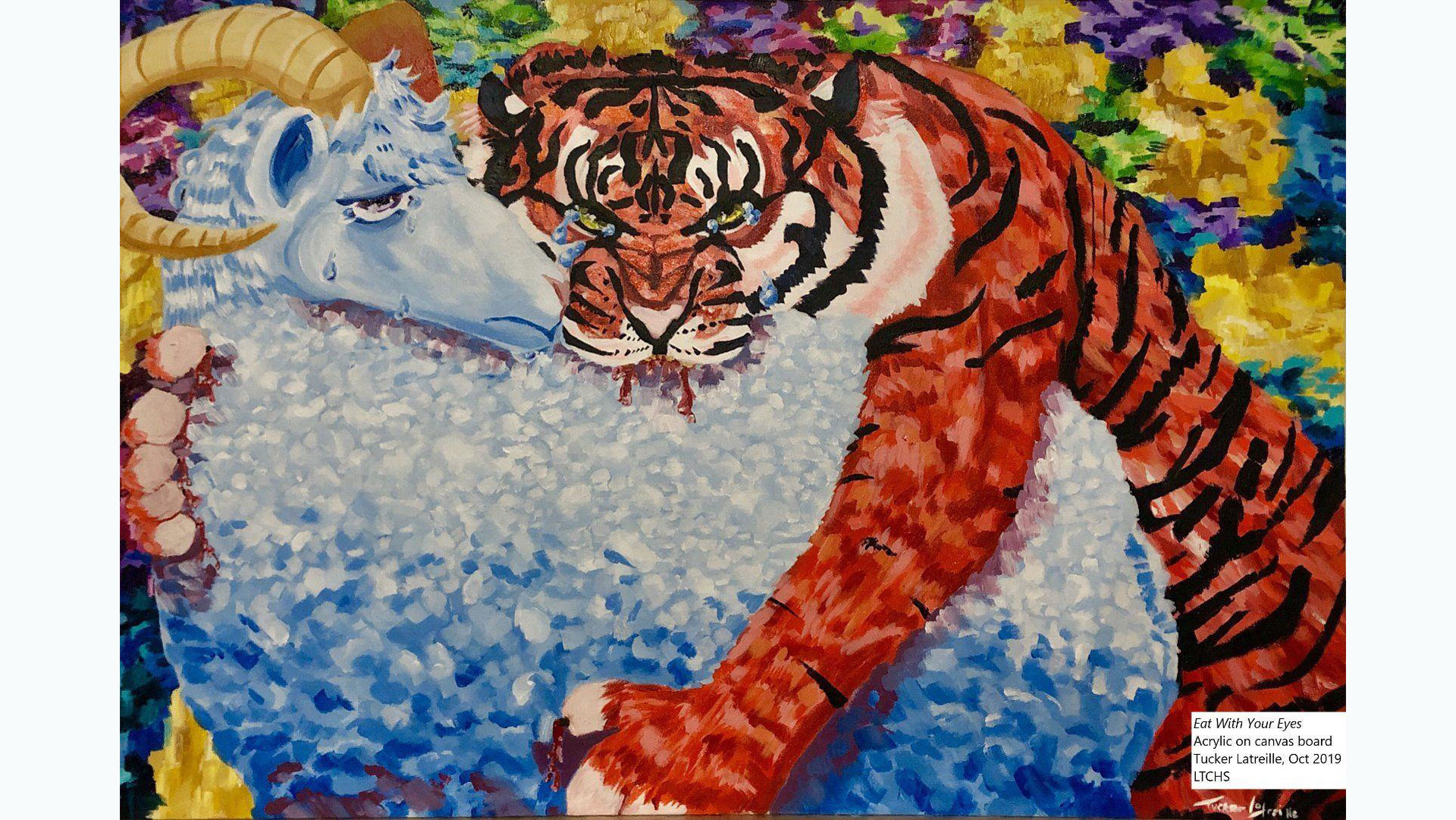 Red Deer Arts Council is hosting the exhibition of works by art students in Lindsay Thurber Comprehensive High School's (LTCHS) International Baccalaureate (IB) Visual Art Programme and Hunting Hills High School's (HHHS) Advanced Placement (AP) Visual Arts Programme on their website and social media accounts.
Participating artists include Abigail Anderson, Amanda Goldthorpe, Siobhan Crossie, N'Leah Jones, True Engel, Makayla Alvarez, Savayah Barritt, Aisha Corcoran, Elena Kelly, Tucker Latreille and Hana Wolfe.
The works showcase a variety of themes and artistic mediums, including acrylic, charcoal, ceramics, watercolour pencils, graphite, coloured pencil, watercolour, and mixed media pieces. The Arts Council will continue posting photographs of the included pieces through the end of June. Each post includes one piece, along with details about the artist and a brief artist's statement about the piece.
Inspiration stems from a variety of places for these artists, and include creative family members and role models, God, community, and other art forms such as music.
Mental health benefits from their artistic practice seems to be something they all share. "Art is important to me because it keeps me happy. Making art always takes me away from the world and I can get lost in hours of making art and being creative," said Hana Wolfe of LTCHS. Abigail Anderson of HHHS said, "Art is the way I express the buildup of emotions from my day, it's my outlet, even a form of therapy. My art is something I'm proud of and it's something I believe everyone has the capability of doing. My art has given me confidence and a way better understanding of myself."
The students speak highly of their respective program and describe how important it has been in their development as an artist. "I've never been great with verbalizing my thoughts and feelings, and art has always been a great outlet to get all of that out for me," said True Engel, HHHS. Tucker Latrielle of LTCHS said, "This art program has given me a whole new community of friends and strengthened relationships through art. Through this community we share our insights and hardships in art, growing strong together in our artistic practice".
Instructors Sheena McNiff-Wolfe and Carrie Waldo are proud of what their students have achieved in producing the work for this show under such unusual circumstances. "We are thrilled to be celebrating your success and resilience especially given the circumstances as you worked towards the completion of this course! We wish you continued success and growth as you continue your artistic journeys and thank the Red Deer Arts Council for finding ways to continue the tradition of sharing and recognizing the courageous work you create," said Sheena McNiff-Wolfe.
The Red Deer Arts Council is equally grateful to the students and instructors for their work towards the exhibition. "We are so proud of these committed students who've persevered through isolation to complete their work for their respective AP & IB art programs. We are also thankful for their instructors who've helped us coordinate this show and we're so pleased we could convert the exhibition into an online format," said Suzanne Hermary, Coordinator. Several of the participating students are graduating high school and the Arts Council wishes each of them great success in their future creative careers.
How I Grow
Savayah Barritt
Out of Reach
Siobhan Crossie
Alone in the Universe
Tucker Latreille
To see the exhibition, visit the Red Deer Arts Council online: