Brighter Days: New Recreation Centre Lighting
March 08, 2023
Let there be light! Red Deer's Recreation Centre Pool Natatorium is home to a new LED lighting system that is much safer and 'greener' than the last.

Since 2006, costly and inefficient halide bulbs had been suspended above the pool, illuminating the popular aquatic facility. At the time, these lighting systems were a sufficient option but with new LED technology on the rise and halide fixtures slowly becoming obsolete, The City's Safe and Healthy Communities department knew it was time to make a change.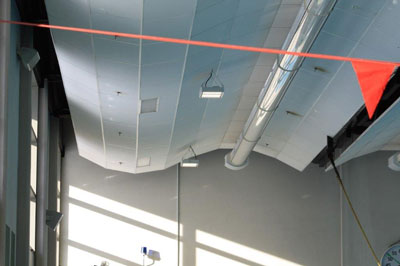 "The old lights were 1000-Watt Metal Halide Bulbs which directed light through 4 tubes to illuminate the pool area and deck. These were very costly to run, operated at high temperatures and proved to be extremely inefficient as they took 10 minutes just to turn on" explained Scott Hepfner, Recreation Operations Coordinator with the City of Red Deer. "We knew it was time to look at options to improve the aging system and come up with LED solutions for replacement."
Adding further momentum to the upgrade, brightness levels were no longer meeting the 215 Lux requisite which became increasingly problematic for staff, public use and swim event safety.
The lighting infrastructure project was able to move forward through generosity of the Municipal Climate Change Action Centre (MCCAC). The City of Red Deer is grateful to have received MCCAC's financial support through a grant application, allowing crews to upgrade the lighting with energy efficient technology and optimal brightness levels that meets the need for a safe and enjoyable aquatic experience!
Being a well-used and well-loved community recreation space, timing for execution on the installation was an important part of the project's strategy. Work was completed back in December 2022 during the annual scheduled pool shutdown, leaving little to no impact on user groups and community members.
Thanks to the fantastic support from the MCCAC and the longevity of these new LED fixtures, Red Deer's Recreation Centre is looking ahead to a brighter future.