Chill out in Capstone's Ice Playground
February 25, 2022
Capstone is embracing winter with IceWorx, an interactive ice playground!

Capstone is embracing winter with IceWorx, an interactive ice playground! Enjoy the crisp and cozy atmosphere in Canada 150 Square and play a game of ice shuffleboard or ice checkers. You can use the icewall to snap a picture and enter to win a Capstone prize pack (featuring Capstone retailers), and kids can crawl through the tunnel of the sea lion ice sculpture.
Envisioned by BassBus President Baran Faber, who specializes in creating innovative community experiences, Capstone's IceWorx was designed to encourage people to embrace and enjoy winter activities, while discovering the Capstone area.
"Although ice can be a challenge to work with, when mother nature cooperates the results are incredible. I'm always amazed at what Lee is capable of creating out of ice. I hope IceWorx encourages many to get bundled up and come enjoy this ice playground in Capstone," said Baran Faber, BassBus President.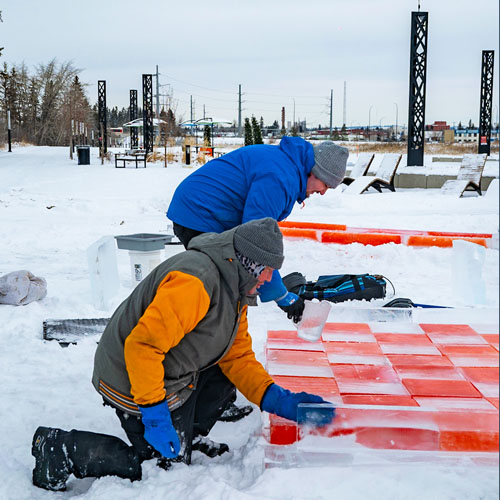 The ice pieces were all created and installed (in -30 degree weather!) by Albertan Ice Artist Lee Ross, of Frozen Memories, who has been sculpting ice for over 40 years. Ross changed the face of the ice carving industry when he developed CNC technology for ice cutting, which resulted in greater precision and consistency, and more complex designs. There's a good chance you've already seen his work, if you've ever visited the ice castle in Lake Louise, or if you remember the Ice Bronco in Ottawa leading up to the 1988 Calgary Winter Olympics.
Ross also uses chain saws, ice chisels, Dremel tools and household items such as hairdryers and irons. Hear Ross talk about his artistic process.
The pieces in Capstone represent approximately 80 hours of work and will remain in place for as long as the weather cooperates.