Colouring for Climate Change
June 24, 2020
The past few months may have kept students away from their classrooms, but it didn't stop them from showcasing their artistic talents from home.

Many students participated in the third annual Our Environment, Our Future poster contest. Posters reflected the 2020 Earth Day theme, Climate Action, with students drawing thought-provoking works of art illustrating the urgency of climate action.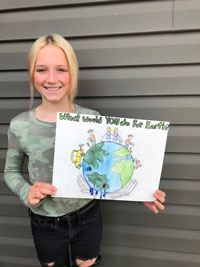 "Climate action is important because we only have one planet – let's try the best we can," said Saamia, Grand Prize winner of the Grade 7 to 9 category, "It's one thing to spread awareness but it's another thing to take action." Saamia suggests things like picking up garbage, carpooling, and riding bikes instead of driving as simple actions individuals can take.
Sophia, Grand Prize winner of the Grade 4 to 6 category said, "People are wrecking the planet and we need to do something now for the future."
"We should help the environment to keep it clean and looking nicer, because eventually all the garbage is going to hurt the animals, like deer and moose," adds Liberty, Grand Prize winner of the Grade 1 to 3 category.
Sophia and Liberty both believe that everyone can help by picking up litter and sorting it in the appropriate carts, and making sure to reduce, reuse, and recycle.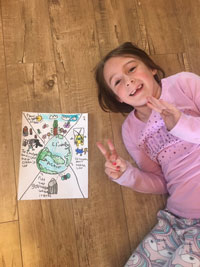 The students welcomed the opportunity to have a project to focus their attention on during the pandemic. "The poster contest allowed me to learn more about the environment, keeping me preoccupied while having fun," says Saamia.
Parents agree. "It really took Sophia's mind off of what was going on at the time," said mom Victoria, "She didn't have to think about the uncertainty."
Parent Christina adds, "The poster contest gave something positive for Liberty to focus on with no distractions. It brought a lot of joy."
The annual Earth Day poster contest is a partnership between The City of Red Deer and the Red Deer River Watershed Alliance. To view all the winning posters and be inspired to take climate action, visit https://www.reddeer.ca/city-services/environment-and-conservation/your-school/poster-contest/