Emergency Response means all hands on deck
May 10, 2023
Emergency preparedness is critical for municipalities. At The City of Red Deer, the Emergency Management Program provides coordination, leadership and expertise to emergency mitigation, preparedness, response and recovery.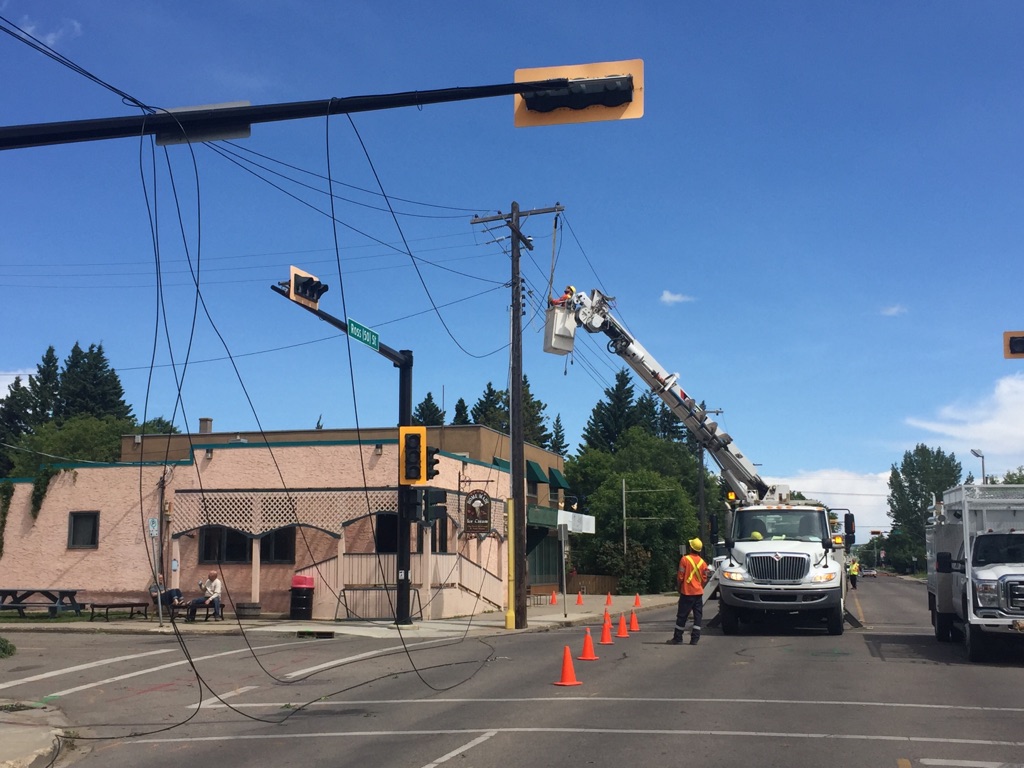 The City is also a proud member of the Central Region All Hazards Incident Management Team (CRAHIMT). CRAHIMT is a collective of trained personnel drawn from multiple organizations in central Alberta who bring the expertise to respond to emergencies of any kind.
Last week, wildfires burning across the province started to threaten several communities due to extremely dry spring conditions. In true Alberta fashion, many municipalities have stepped up to support the needs of these communities.
When the fires required the town of Drayton Valley to evacuate on May 5, three Red Deer EMS units were dispatched to Drayton Valley to transport patients from their hospital to other facilities. One Environmental Services staff member was deployed through CRAHIMT as an incident management team member and four Red Deer Emergency Services employees were deployed through Canada Task Force 2 (the National Disaster Response Team) for a seven-day deployment to support the fight against the fires burning across the province. Four Municipal Officers and numerous Red Deer RCMP Officers were also deployed to assist.
As 80 wildfires continue to burn in forest protection areas, our emergency responder resources continue to join the fight. This week, two transit and fleet staff members and two municipal officers are deployed to Drayton Valley and the Brazeau County area, while three Red Deer Emergency Services are supporting Canada Task Force 2. As these emergencies continue, many more City employees have offered help and are ready to support our neighbouring communities.
Coincidentally, May 7-13 is also Emergency Preparedness Week. As a resident, you can help ease the stress of emergencies by being prepared. Here's how you can know the risks, make a plan and get a kit.
Know the Risks:
In central Alberta, our greatest risks are tornado, flood, severe storms, chemical spill and utility outages. To get timely notifications, sign up for Notify Red Deer at reddeer.ca/notify and download the Alberta Emergency Alert app by visiting https://bit.ly/3HR1mc3.
Make a Plan:
When an emergency strikes, you may not be with your family. Creating a family emergency plan can help you feel more prepared to handle stressful situations. The City has created a handy Emergency Preparedness document that you can download and fill in so you're ready when an emergency strikes.
Get a Kit:
An Emergency Kit should have enough items to sustain your household for 72 hours, and include:
water,
non-perishable foods,
flashlight & batteries,
prescriptions,
keys,
cash, and
important documents
You're probably more prepared than you think. If you have camping gear, you can likely find an extra can opener or flashlight to add to your kit. To prepare your kit in a budget-friendly way, slowly build it over time by grabbing one extra item each time you're grocery shopping.
Want to learn more about building your own emergency kit? The City of Red Deer is hosting two Build an Emergency Kit on a Budget sessions Wednesday, May 10 and Thursday, May 11. Event details here: https://www.facebook.com/events/611824611147218?ref=newsfeed
This Emergency Preparedness Week, we encourage our community to start taking the small steps to be better prepared. You never know when an emergency might strike!