Hitting the ice with our first blind hockey team
February 27, 2020
Pioneering a new sport and helping it grow and prosper in a new community takes dedication and vision. Dustin Butterfield has trouble seeing, but he certainly has the "vision" to bring a community together.

It's a brisk Saturday afternoon in February at the local outdoor rink in Riverside Meadows and the sticks and pucks are flying. But this is no ordinary pick-up game. Players have traveled from Edmonton, Calgary and across Central Alberta for what's being dubbed the "Blind Hockey Battle of Alberta." All the players on the ice today have significant vision impairment (except for a few sighted volunteers) and some are nearly blind. But that's not stopping anyone from strapping on the pads and hitting the ice.
"There's some accidental body contact… and some less accidental," laughs Dustin Butterfield, team captain and founder of the Central Alberta Bullseye, Red Deer's first-ever blind hockey team.
At first glance, it looks like any other afternoon hockey game at any outdoor rink in Red Deer – with a couple of exceptions. The puck is made of metal, and it's hollow and bigger than a traditional hockey puck. Metal ball bearings inside make it easier for players to follow.
"It's bigger, it's a little easier to see for those who have a bit of vision, and it's constantly rattling and making noise," says Butterfield.
The other big difference on this day, is the documentary film crew posted along the boards and recording all the action.
"Before this I didn't know that blind hockey existed," admits Producer Elise Graham. "It's the bravery. To strap skates to your feet and go out on the ice and play hockey when you don't have full vision is pretty mind blowing for me. It's pretty scary for me to go fast on skates, I don't stop real well," she says with a laugh.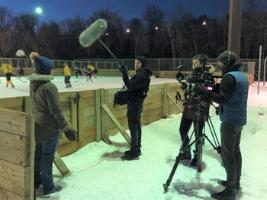 Graham's crew has been hired by Accessible Media Inc., or AMI, a national broadcaster serving Canadians who are blind or partially sighted. They're filming the game and a few other practice sessions at Red Deer College for an upcoming episode of Our Community , a magazine-style show highlighting the people, places and organizations that help improve the lives of people with disabilities.
"Knowing that they don't have the vision that we have, they can't see where they're going all the time, yet they're just 100 per cent committed to it, it's really awesome," says Graham.
Today's game is between the Bullseye and the Calgary Seeing Ice Dogs. The Edmonton Seehawks are also taking part in the mini-tournament. This is the first year of play for the Bullseye, who are based in Red Deer, but have players from around Central Alberta. Butterfield started the team after attending the Canadian National Blind Hockey Tournament in Toronto last year. He says it brings together people with visual impairments and a love of hockey.
"You always go for a bite to eat or a beer after and you talk about being visually impaired and everything else too, but you find out about some of the tools and technologies they use, some of the things they do to make their life a little better and overcome their challenge."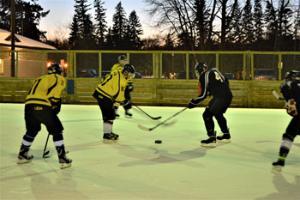 Playing hockey with a visual impairment takes a lot of dedication, not only from the players, but also their family and friends who help with everything from driving to the games, to packing equipment.
"The one thing we weren't expecting to include much in the documentary and I think we're going to end up including a lot of, is the family aspect," says Graham. "We thought it was just going to be guys playing hockey and then you find out that their families are so involved and that the volunteers really make it a whole community."
After four days of filming, it's a quick turnaround for the documentary crew, who will deliver the finished episode to AMI for airing in March or April. Dustin Butterfield hopes the extra exposure will help attract new players to the team and grow the sport in Alberta, while stamping out some of the stigma that sometimes goes along with visual impairment.
"You might be shaking hands after the game and you'll miss lots of handshakes because of the vision impairments but then people just laugh. It's never awkward. In that environment you're just sort of accepted, everybody's accepted."
Do you have a visual impairment and an interest in joining the Central Alberta Bullseye? Call Dustin Butterfield for more information at 403-786-9975 or search "Central Alberta Bullseye Blind hockey" on Facebook.