I like to help Canada because Canada helped me
May 08, 2020
Esmat Bayat knows his way around a sewing machine.

"I have lots of experience," he chuckles. "Maybe 26, 28 years. A long time."
Bayat grew up in Afghanistan, working as a tailor and shoemaker since the age of 12. He opened his own business in Kabul making custom suits and dresses. In the years following 9/11, Bayat's homeland became war-torn and dangerous, so he packed up his family and fled to Iran.
"We were refugees in Iran. The government of Iran is not good with refugees and immigrants. And Afghanistan was war. We had to move."
After brief stops in Pakistan and Turkey, Bayat's dream finally came true three years ago. On April 26, 2017, his family was granted refugee status in Canada. Bayat, his wife, and their four kids headed for a little city on the prairies they knew nothing about, named Red Deer.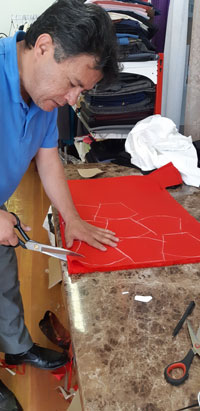 Today, the Bayat family has settled into their new Canadian life and Esmat runs a tailor shop downtown. All was well… until COVID-19 hit.
"Right now I don't have any customers," he says. "Our community needs medical masks and protective suits. I am able to make them."
Instead of closing up shop and waiting for the pandemic to pass, Bayat is using his skills to help the country that welcomed his family warmly. He ordered special waterproof fabric and is sewing five-hundred medical masks and one-hundred protective suits. He plans to donate them to Red Deer's front-line health care workers.
"I like to help Canada because Canada helped me. The Canada(ian) government helped bring me to Canada and now I and my family are safe," he says. "I wanted to help the government, help the Canadians. This is how I can do that."
When COVID has passed, Bayat plans to start sewing clothes again and maybe one day open a small garment factory in Red Deer. In the meantime, he's focused on giving a helping hand to those who are working hard to keep Canadians safe and healthy.
"Everything is not money, not dollars. Sometimes people just need to help each other."