Increasing accessibility at the Dawe
September 03, 2020
As many of us try to get outside and soak up the final few weeks of warm summer sunshine, one Red Deer woman is doing just the opposite.

"It doesn't matter if it's direct sunlight or not, it can even be a cloudy day. What matters is the ultra-violet light and that's what produces the allergen," explains Alexis Holmgren.
The 20-year-old Red Deer woman suffers from a rare and severe allergy to sunlight called Solar Urticaria. Very few people have the condition and little is known about it.
"It's something that even when you Google it, there's not a lot of information. It's extremely rare, I'm probably going to be the only person you ever meet with it," says Holmgren. "I'm the only person we know of in Alberta with it, and one of only a few in Canada."
Alexis' allergy is so severe, any exposure to the sun's U-V rays is dangerous. Even a short car ride or a walk to the mailbox can trigger a significant reaction. When she is required to go outdoors, Alexis must cover her skin completely, including a head and face wrap, sunglasses and gloves. Even then, some ultraviolet light can sneak through.
"Basically it's the same type of allergic response someone would have to a peanut or a fish. I get covered in hives, I get extremely nauseous, my blood pressure can drop, I can go into anaphylaxis… it's just not good."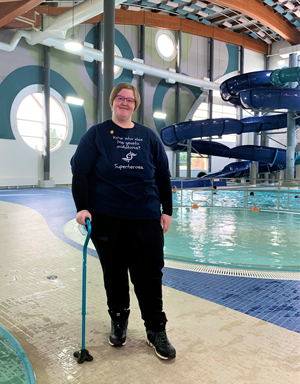 Alexis was born with the condition, but the symptoms gradually became worse as she became a pre-teen and teenager. She was forced to complete her schooling online, because the bus rides to and from school and the sun shining through the classroom windows would cause a reaction. She also had to give up one of her favourite pastimes: swimming.
"I haven't been able to swim and I've really missed it. I've loved swimming my whole life; I just love being in the water. But because of the sun shining through the windows of the pool, I haven't been able to swim for a while."
When Alexis was 18, she attended Camp Sundown in upstate New York; the only summer camp in the world designed specifically for kids who suffer from sun allergies and ultra-violet light sensitivity. It was here Alexis first discovered a swimming pool that she could use without any risk of a reaction – and it gave her an idea.
"They had a pool where the windows were coated in a U-V-blocking film. It allows kids to go there and swim at any time of the day they want and just basically have a normal summer camp experience," she says. "I saw it and I thought, 'hey, I could make the Red Deer pools accessible."
Not long after, Alexis received a Facebook message from a friend, suggesting she research the federal government's Youth Accessibility Leader initiative. The program provides funding for upgrades to workplaces and public spaces identified as having barriers for people with disabilities and medical conditions. Alexis received her designation as Youth Accessibility Leader and set out on a plan to make Red Deer's pools more accessible for people with sunlight allergies.
"I didn't really know where to start so I just sent an email to all of Red Deer City Council," Alexis laughs. "They put me in touch with the Recreation department and a grant writer and we applied for the funding."
Nearly six months after applying, Alexis found out in March that her project was approved for $10,000 in federal funding.
"I was so excited," she admits. "It's amazing, just knowing that it's here for me and for other people like me. There are other more common sun allergies and there are a lot of people in Red Deer who are going to benefit from this."
In August, it took crews three days to cut and install the specialized film on each window at the G.H. Dawe Community Centre pool. From the outside, the windows are a little shinier than before and have a slightly blue tint. From the inside, the film is unnoticeable to the naked eye, but Alexis says it makes a world of difference.
"Before, standing there on the pool deck without being covered up, I probably would have had a reaction within about 30 seconds. I could definitely tell that the windows were coated, and it feels awesome. It was actually a really amazing moment to see it."
Due to other unrelated medical conditions, Alexis and members of her family are considered immuno-compromised during COVID-19, so she won't be able to try out the new pool for at least a few months. But as soon as the pandemic passes, Alexis says she'll be back in the water.
"I'm going to be in the pool a lot for sure," she says with a smile. "I can't wait to use it."