Kick it to the Curb
July 15, 2019
A cluttered home or garage can be such a pain to deal with.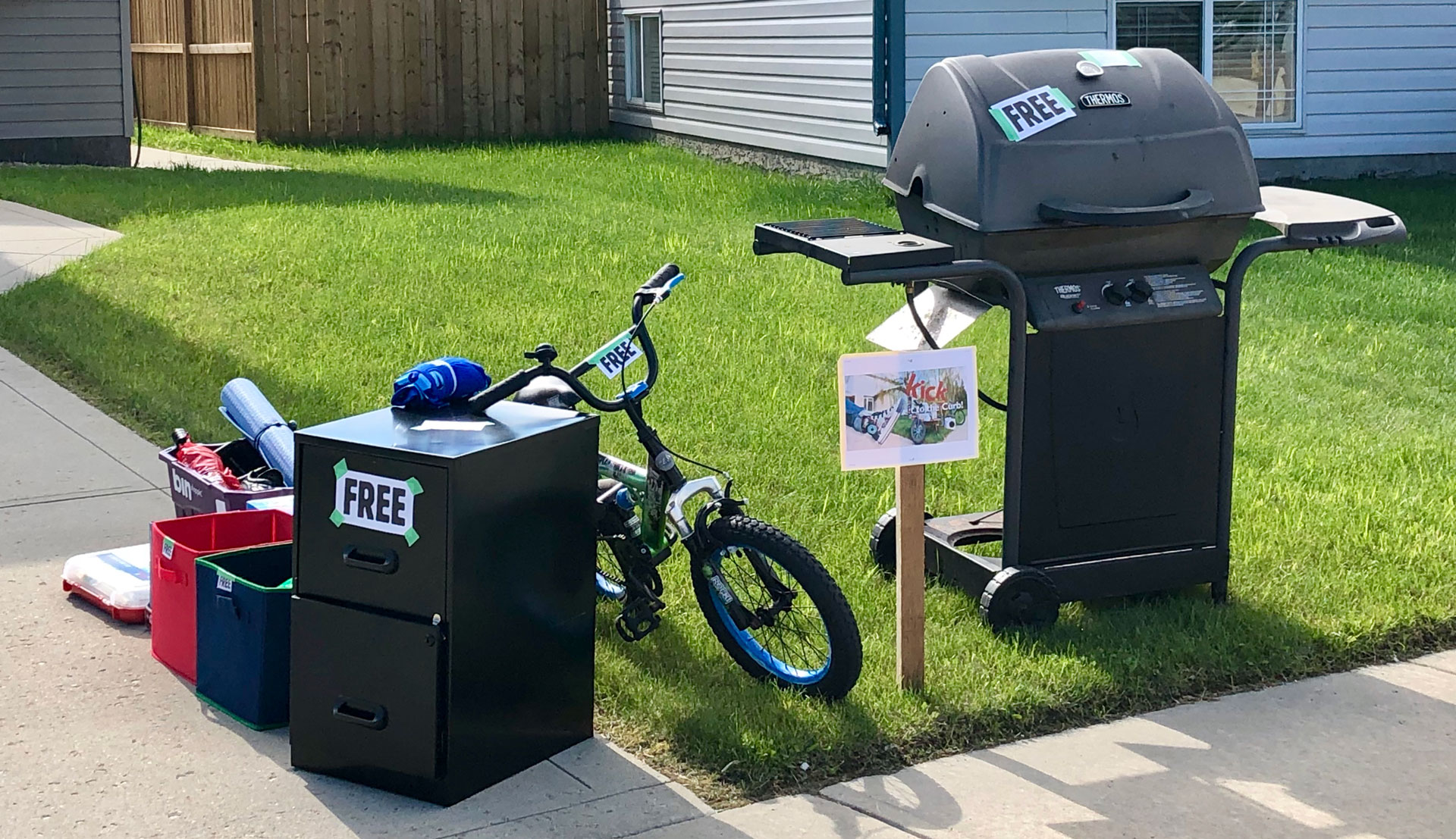 A cluttered home or garage can be such a pain to deal with. Not only do you have to find time to go through everything, sort and set aside, but then you have to decide how to get them out of your home. Do you sell the items at a garage sale or online? Donate them to a second-hand store? Sometimes items sit aside for days or even months at your back door in a box labelled "to donate".
For Niki and her husband James, The City's Kick it to the Curb program was an easy way to declutter and find new homes for their former treasures.
"We had kids' toys, books and a bike, as well as some miscellaneous items like a barbecue, a filing cabinet, yoga mat and baseball glove," Niki says. "Everything had lots of life left in them, but either our kids had outgrown them or we had replaced them over time."
Kick it to the Curb is the perfect program for Red Deerians who want to see their old items stay out of the landfill and head to someone else's home. The best part? You simply have to drop the items at the end of your property and wait. For Niki, every single item was gone in less than two hours. Perhaps this was helped because she took advantage of The City's Facebook event page, Twitter hashtag, and Kijiji to help promote her items.
This was the first year Niki and James have participated, and though they had thought about participating before, they always seemed to miss Kick It to the Curb when it was a twice-annual event. This year, The City is offering Kick It on the third weekend of every month, from May to October.
"I like this new system because if you miss it in the spring, you still have lots of options and can choose to do it in little chunks," says Niki. "We will participate in another one this summer because we have a room of stuff to go."
The Kerry Wood Nature Centre also offers a Trash to Treasure Swap Meet for anyone who would rather not put small, unwanted items on their curb or whose home doesn't have a curb. The Trash to Treasure Swap Meet is held the same six weekends throughout the spring, summer and fall as Kick It to the Curb.
You still have four more opportunities to take part in Kick it to the Curb – July 20-21, August 17-18, September 21-22, and October 19-20. Find out more at www.reddeer.ca/kickit.