Mayor's Garden Party goes on tour
July 29, 2020
It's become something of a summertime tradition for Red Deer seniors and those who hold The City's highest office.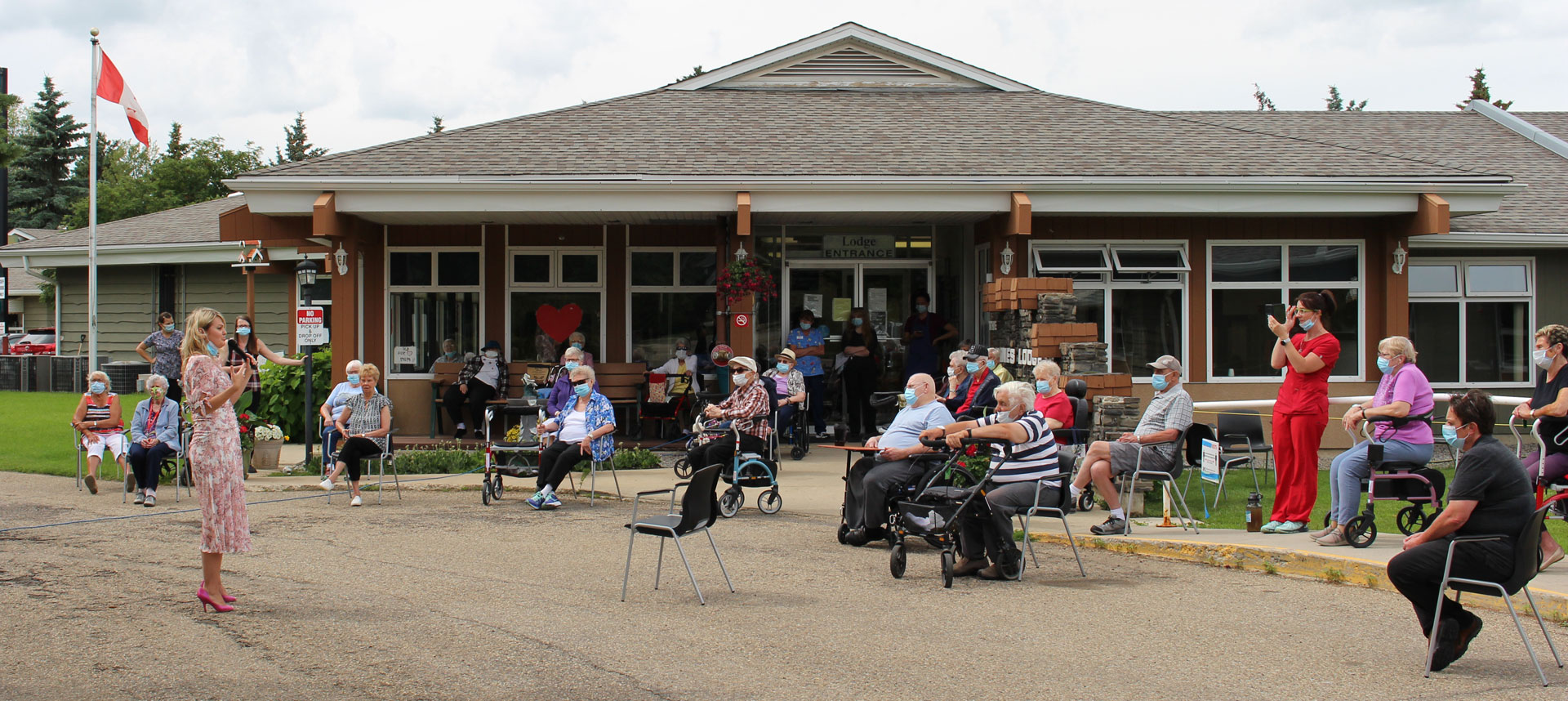 For the past several years, usually in June as part of Alberta Seniors' Month, the Mayor and City Council welcome hundreds of seniors to the gardens of City Hall Park for the annual Mayor's Garden Party. This year, amid the COVID-19 pandemic and restrictions on mass gatherings, the traditional Garden Party was cancelled.
"Even though we were unable to host our seniors in the gardens of City Hall Park this year, we couldn't miss this annual opportunity to celebrate them," said Mayor Tara Veer. "We would like to extend our heartfelt thanks to our seniors for sharing your skills, knowledge and experience through the years. You all have contributed to the strength of our community, province and country, and we honour you for the legacies you've built. "
Instead of seniors coming to City Hall to visit the Mayor, the Garden Party came to them. Over the course of two days earlier this month, Mayor Veer and members of City Council visited 13 different lodges and senior care facilities to deliver flowers, visit with residents and staff, and discuss issues. Mayor Veer fielded questions on everything from how long the pandemic will last and when care facilities will be allowed to welcome back guests, to the state of Westerner Park and the upcoming IIHF World Junior Hockey Championships. Each visit took place outdoors with the Mayor and City Councillors wearing masks and physically distancing from seniors to adhere to provincial health orders.
"We are thrilled to be able to make these special visits to our seniors at their homes. We want to celebrate them and make sure they know just how important they are to our community," says Mayor Veer.
Along with personalized cards for residents, each facility was also gifted two planters filled with red and white flowers to symbolize Canada Day and The City's solidarity with seniors who helped build Canada into the great country it is today.
"It was wonderful to receive support from our City and meet some smiling faces, glowing through the masks," says Brett Kendrick, Administrator of Extendicare Michener Hill. "On behalf of the cherished residents and staff here, we want to say thank-you for the beautiful flowers and cards."
"It was incredibly tough to visit all these wonderful seniors and not be able to give them a hug or at least shake hands, but we know seniors are one of the groups most vulnerable to COVID-19 and it's just not worth the risk," said Veer. "My hope is that by this time next summer, the pandemic is firmly behind us and we can welcome all of our incredible seniors back to City Hall Park in person, for the traditional Mayor's Garden Party once again."