Next stop: Cheddar's house
June 11, 2020
The cat came back, the very next day. The cat came back - we thought he was goner, but the cat came back - the transit driver saved the day!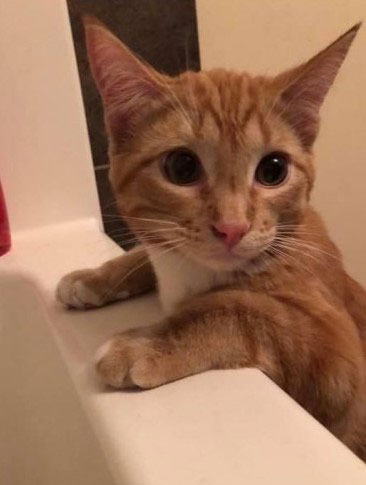 On the evening of May 21, Red Deer Transit Operator Wes Makofka was dropping off an Action Bus client when he heard something in a nearby bush. Wes followed the noise and found a small orange kitten. Knowing someone was likely missing this little one, Wes decided to try to find the kitten's home.
The power of social media came through and Wes located the owners. He learned that the kitten's name was Cheddar and he had been missing for three days. The owners were thrilled to have Cheddar home and the family's daughter now refers to Wes as her hero. The mom made a point to meet Wes at Sorenson Station to say thank you and to share the story with his supervisors.
"Wes is a very kind hearted person, who consistently goes above and beyond to help people out during the course of his day. We are happy the kitten's owner let us know, so we could recognize Wes for this act of kindness," said Teresa Bouteiller, Senior Operations Supervisor for Action Bus, "When I spoke with Wes, he didn't think he did anything special, he said it was just the right thing to do to try to find the kitten's owner. We are proud to have many Operators, just like Wes, who consistently go the extra mile for their clients and the people in their community."