Pride Day a first for the Canada Winter Games
February 22, 2019
Red Deer is the first host city in history to include official Pride events during the Canada Winter Games. February 21 and 28 have been declared as official Pride Days by the Canada Winter Games Host Society.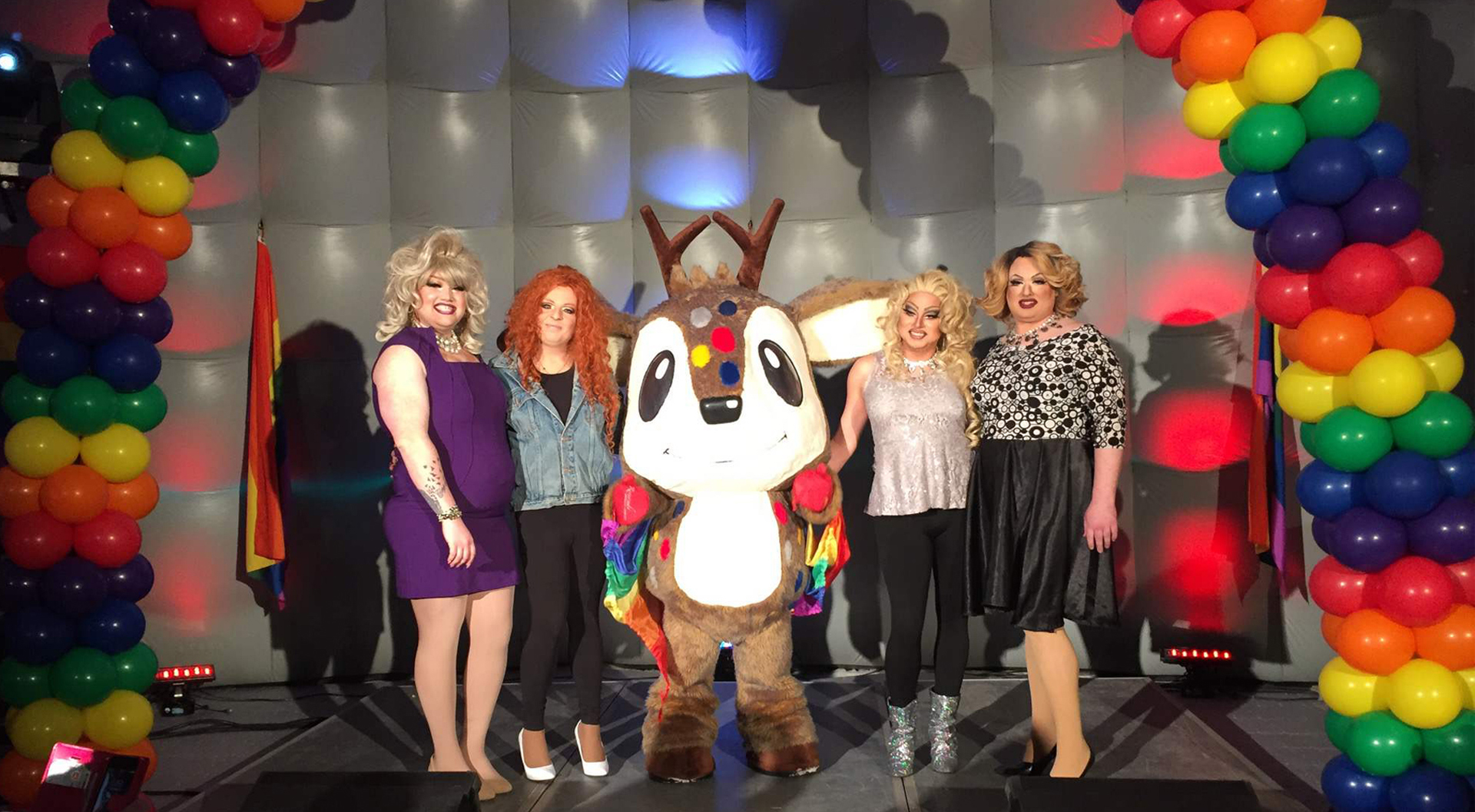 The idea is to create a safe space for people of all identities, out or not, to come together and enjoy an evening of family friendly fun. Red Deer is the first city to include official Pride Days during a Canada Games and we couldn't be more proud to be part of this important moment in history.
The first event the Central Alberta Pride Society hosted on Thursday, February 21, was a drag show at Canada House. The event was a huge success and drew a large crowd. Performer Kelli Eletrix kicked off the show with a crowd favorite "Let it Go" which had everyone singing along. The show also featured performances by local talent 4Q: Kelli Eletrix, Sparkle Emotion, Ruby Harte and DD Fierce, with music performed by DJ Suco. During intermission, an impromptu "floss like a boss" dance challenge happened when spectators showed off their "flossing" skills. The show closed with performers dancing and posing for photos with the crowd.
"Inclusive events like these create an opportunity for people of all ages to find people and places in the community with which they identify," said Kareen Lambert, Central Alberta Pride Society and Trans and Non-Binary Aid Society Board Member.
This partnership with the 2019 Canada Winter Games also exemplifies the importance of allies within the community. By asking us to partner with them the 2019 Canada Winter Games Host Society showed their pride while creating a safe space for others to do the same. Many people may be allies without realizing it or identifying as such. The attendance at our events just goes to show how true this is. Awareness for what it means to be an ally is super important in our work. At the end of the day, we really are all one community under one rainbow. It is events like these that allow us to all come together in one place, and in this case, literally under a giant inflatable rainbow.
If you missed the February 21 show, don't worry! A second show is scheduled for next Thursday, same time, same place. Additionally, we invite all members of the community over the age of 18 to join us for a Pride Social at the Scott Block Theatre Saturday, February 23 at 8 p.m. The Pride Social is free to attend and will feature DJ Molly Fi, dubbed "Calgary's first lady of Breaks" and founder of the Girls on Decks DJ Collective (est. 2003). Molly Fi has spent the better part of two decades breaking down the walls for fellow female/non-binary DJs and performers.
As part of Pride Days, the Central Alberta Pride Society is hosting two events Canada House on the 52˚North Music + Cultural Festival grounds. These events include an educational expo from 4:30 until 6:30 p.m. featuring local partner organizations: Trans and Non-Binary Aid Society (TANAS), Youth HQ, Franco Queer, local QSA and GSA groups, RDC's Pride on Campus, and more.
For more information visit www.centralalbertapride.ca/events.
Central Alberta Pride Society was founded in 2012 to bring LGBTQ+ awareness and community to Red Deer and surrounding areas. The name was intentionally chosen to be inclusive of urban and rural areas surrounding Red Deer, recognizing that LGBTQ+ people exist beyond city limits. Our mission is to strengthen our community and cultivate social change through support, awareness and education. Our vision is a safe community that values, embraces and celebrates Central Alberta's diversity.