On ice: Red Deer's ready for the puck drop in 2021
December 23, 2020
A cherished holiday tradition for many, Red Deer was thrilled to be selected as the co-host of the 2020/2021 IIHF World Junior Championship back in 2018.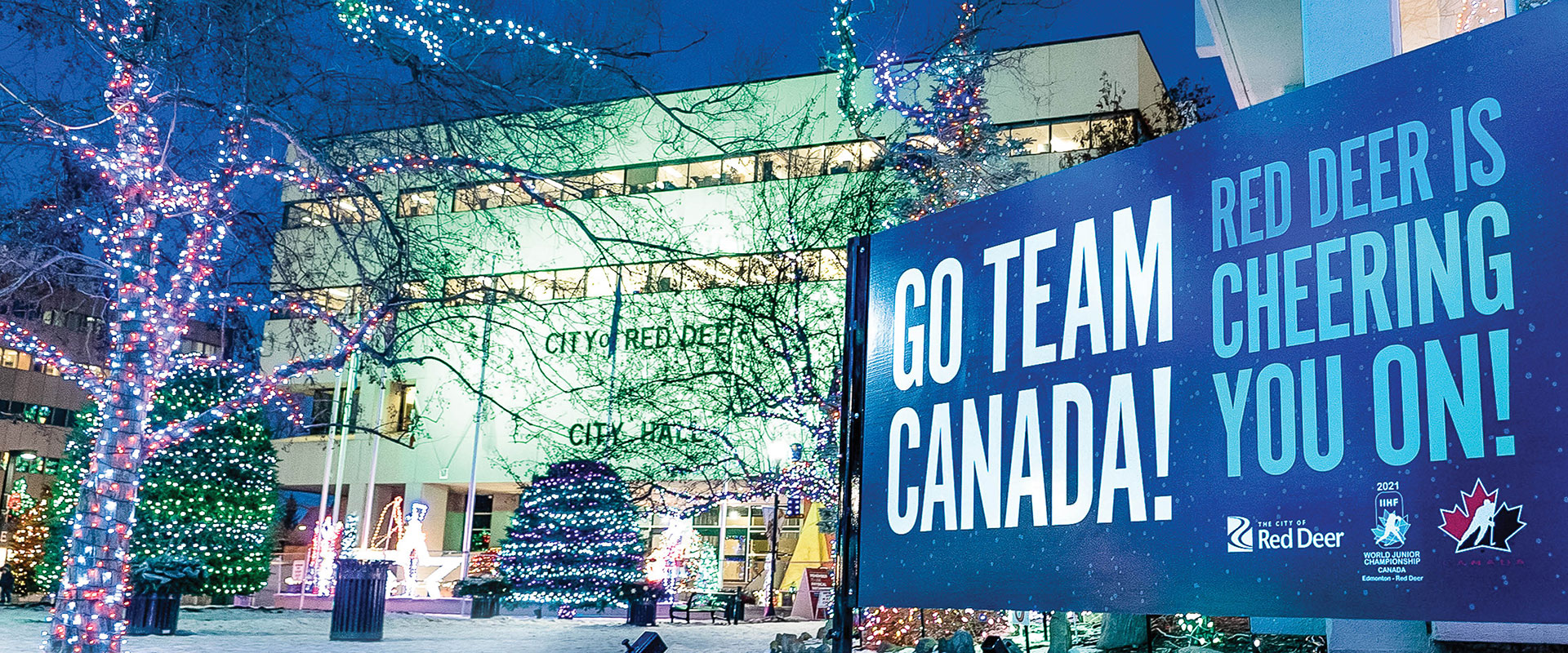 However, our world has changed significantly since then, and come December 25, Red Deerians – along with Canadians from coast to coast to coast – will be cheering on Team Canada from home.
Nestled between Edmonton and Calgary, Red Deer is 100,000 people strong and is no stranger to hosting national and international sporting events. Last year, more than 20,000 athletes, coaches and officials arrived in our city for the 2019 Canada Winter Games. In 2016, Red Deer welcomed the Memorial Cup, and Team Canada brought home gold when Red Deer and Edmonton co-hosted the World Junior Championship in 1995.
But it doesn't end there. From the Scotties Tournament of Hearts to the Hlinka Gretzky Cup to Canadian Finals Rodeo, and the upcoming Pickleball Canada National Championship and Senior Men's AAA Baseball National Championships, we have a strong track record for hosting large-scale spectator events.
Without a doubt, this time next year, we will be more than ready to welcome the world to Red Deer as we co-host the 2021/2022 World Junior Tournament with Edmonton.
"Many Red Deerians were looking forward to the World Junior experience in our community," said Mayor Tara Veer. "While this has been a difficult and unprecedented year, this tournament is a bright spot for not just hockey fans, but for all Canadians. As our country's official national sport, hockey has the power to unite us, and I know in our community we will be cheering on Team Canada with our fellow Canadians."
So how will Red Deer cheer on Team Canada this year? For some it's decorating their house in red and white as part of our World Juniors decorating contest. For others, it might be visiting City Hall Park, famous for its Christmas light display – completed with 92,000 light bulbs and a special World Junior themed tree. Or maybe they will lace up their sakes and hit one of our and 77 outdoor ice rinks. But for most, in this unusual year, they will be watching from home, cheering on Canada's national team as they bring home another gold medal.
It goes without saying that 2020 wasn't what anyone expected, but we're excited to make our 2021 celebration that much better. Get ready Canada, Red Deer's going to party like it's 2021 (hopefully)!
Read more stories about the spirit of Red Deer.