Passing the torch
September 08, 2021
Passing the torch: A message of hope and survival delivered to Grade 5 students by Mayor Veer and Max Eisen, Holocaust Survivor in lead up to Red Deer Reads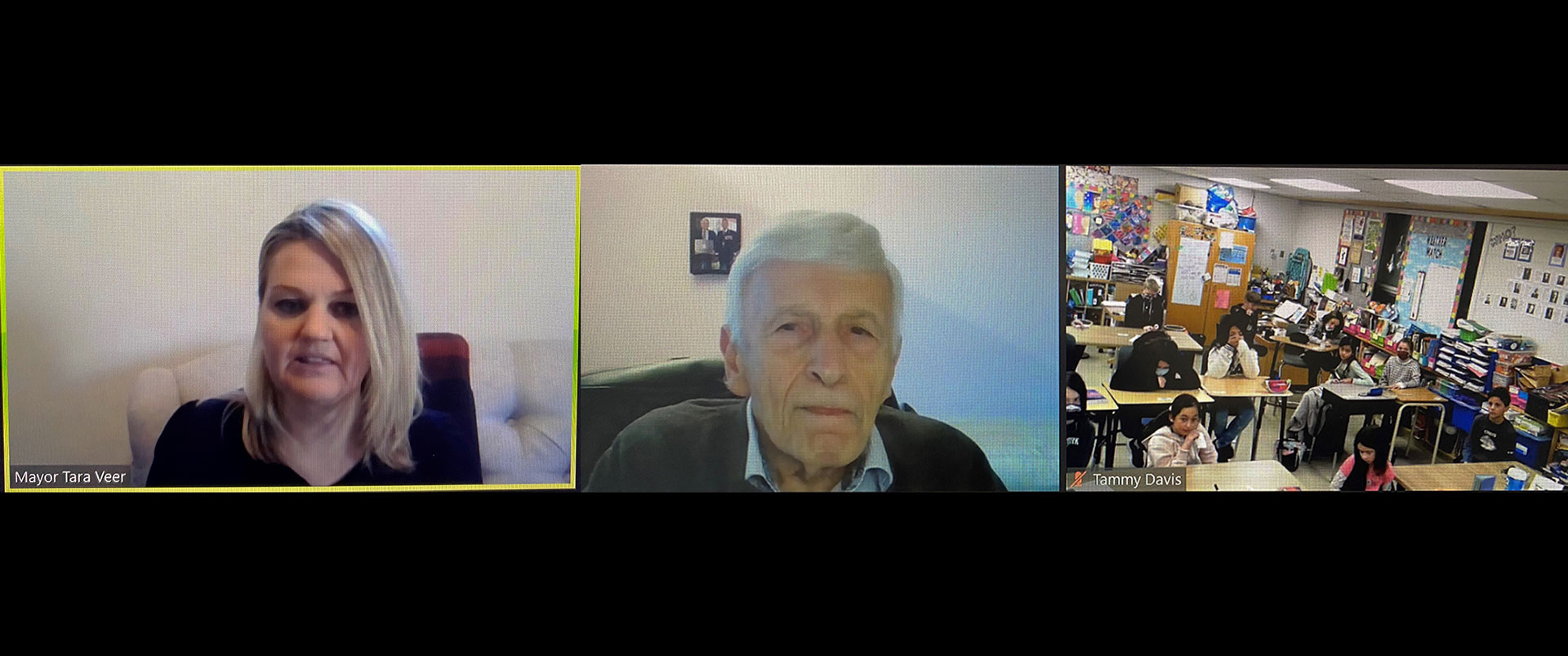 A message of hope and perseverance in the face of the most horrendous trials was delivered to a group of Grade 5 students at Maryview School earlier this year. Mayor Veer, joined by Max Eisen, brought the story of one mans survival to life, and with it, a message and promise for our next generation.
Max Eisen, 92, born in Slovakia, is an author, public speaker and Holocaust educator. He travels throughout Canada giving talks about his experiences as a concentration camp survivor, to students, teachers, universities, law enforcement personnel, and the community.
When he was ten years old, Hungary occupied Slovakia and eventually in 1944 his family was deported to Auschwitz-Birkenau where most of them were immediately killed in gas chambers. Max, his father and uncle worked as slave laborers, but two months later, his father and uncle were selected out for experiments never to be seen again. Max was liberated from Auschwitz 76 years ago and managed to survive the Death March in January 1945 and camps at Mauthausen, Melk and Ebensee in Austria. He was liberated by the American 761st Black Panther Tank Battalion on May 6, 1945. Eventually he returned to Czechoslovakia where he spent three years in an orphanage. Max arrived at Quebec City in October 1949 en route to Toronto where he currently resides.
Mayor Tara Veer met Mr. Eisen during a Holocaust delegation hosted by Eisen in 2019 for Canadian leaders.
"Little did I know that this Holocaust delegation and meeting Max Eisen would not only be one of the most transformative experiences in my life, but that Max would become a lifelong friend," said Mayor Tara Veer. "One of my favorite parts of the delegation was I would have breakfast with Max every morning, and I would try and drink in all his words, and hear his incredible stories. I made a promise to Max that I would help share his story, and was so honoured to be able to have these students from Maryview hear his profound words and join me in that promise."
While Max shared his incredible story of survival, he also delivered many relevant messages and lessons to these students – including always telling your mother you love her, as a heartbreaking story was shared of him not getting that chance as she was immediately sent to the gas chambers with his siblings. As Max tells in his book, he made a promise to his dad and uncle that he would live, survive and tell the story of what had happened to them, to prevent something like that from ever happening again. This is his life's work, and now the students in Grade 5 at Maryview are a part of that legacy.
"We have a duty to carry on the torch and tell this horrific history to prevent it from happening again. These students have been empowered to carry on this message of anti-racism and rise up for the rights and dignities of their friends, classmates and fellow community members," said Mayor Veer. "The lesson is the power of words to affect people's attitudes and when people say things against someone because of the colour of their skin, or because they believe in different things, those eventually become attitudes and attitudes become actions. Our commission is to not only share Max's story, but stay united as a community and as a country."
"You need to stand up and say you cannot do this in my school, in my town, in my city, not in this country. It is everyone's business," said Max Eisen. "In this amazing country of ours – freedom is not free; you need to guard this with your very life. When you hear the anthem, it says Canada, glorious and free, we stand on guard for thee – and this is what you need to do. Promise you will stand on guard for Canada, no matter what colour, race or creed we are."
Max's story reminds us of the strength of the human heart, and the power of survival. Max is not only a survivor, he is a thriver.
Thank you to Tammy Davis of Maryview School for inviting Mayor Veer and Max into her classroom, and to the students for their insightful questions and attention.
"Each year, I send out an invitation for people to read to my class. My intent for this is to introduce my students to a wide variety of people," said Grade 5 teacher, Tammy Davis. "The kids enjoyed meeting a Holocaust survivor and hearing his story. They are so angry about how people treated other people due to their religion and have decided to act by telling Max's story and by spreading the Golden Rule. My students have such pure hearts that they think making posters that tell people to treat others how you would like to be treated is the answer. We hope to do something for the community of Red Deer to remind people of this."
In 2016, Max Eisen released his memoir 'By Chance Alone' published by Harper Collins. His website, www.bychancealone.com includes resources for students and teachers. The Red Deer Public Library is set to announce the chosen community book this week for Red Deer Reads, and Max Eisen's book is a finalist. Learn more about the book club here: https://rdpl.org/reddeerreads/