Pop-up spray parks helping Red Deer beat the heat
August 19, 2019
The unmistakable shape of a City of Red Deer Fire Engine drives up the street towards Joseph Welsh Elementary school, and a crowd begins to form.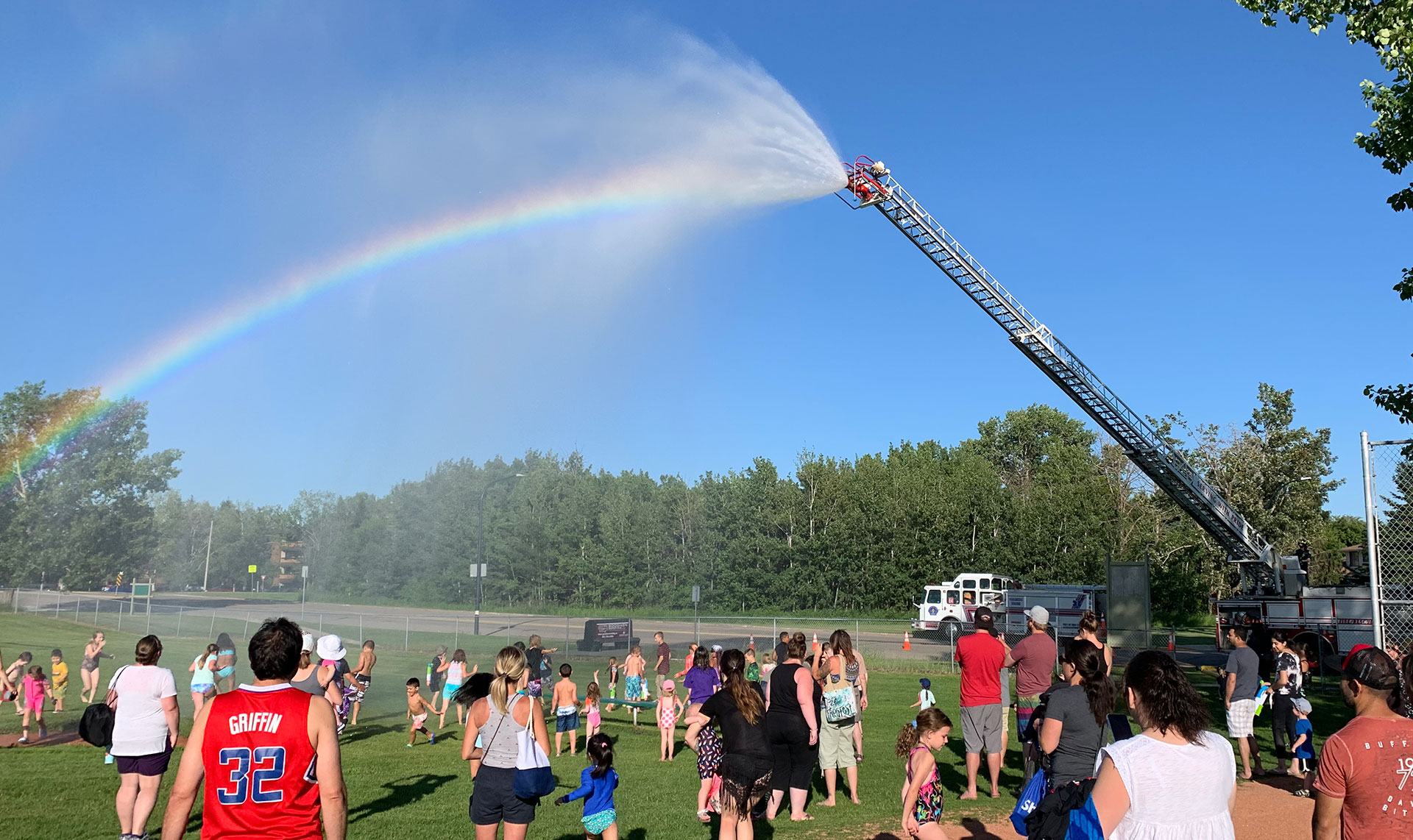 A growing crowd watches in anticipation as firefighters pull up to the fire hydrant, set up the ladder, connect the hoses, and water starts to spray. The children watching can't contain their excitement any longer. Smiles cross their faces as they run towards the mist, letting the cool water fall over them, countering the heat of the summer evening that has evaded us so often this summer. Such is the scene at the Beat the Heat Pop-Up Spray Parks, which have been held on Thursday evenings in Red Deer neighborhoods throughout July and August.
"The pop-up spray parks were an idea brought forward that would help us bring something fun and exciting to different areas of the city, while giving our different City of Red Deer Departments the chance to connect with Red Deerians and bring the community together" explains Tyler Pelke, Deputy Chief of Operations with Red Deer Emergency Services. "Even with a cooler summer this year, we have had a lot of people out, and we have only had to cancel one pop-up park."
The pop-up spray parks gave our Red Deer Emergency Services staff, including our firefighters, municipal police and RCMP officers the opportunity to meet directly with members of the community. Staff members noticed that as the summer went on, repeat visitors were observed. People have been driving from all over Red Deer to take part in the fun.
"Everyone is friendly," explains one attendee. "My son was afraid of fire trucks before and now he loves them."
With the summer winding down, there is only one pop-up spray park remaining on the calendar, on August 22 from 6:30 to 8 p.m. at the Deer Park Community Association Activity Centre. We hope to see you there.
The pop-up spray park program was a coordinated effort between a number of City of Red Deer departments and staff members, as well as local community associations and agencies.