Red Deer RCMP honour RCMP's 150th Anniversary with
June 30, 2023
With the 150 anniversary of RCMP service in Canada, the Red Deer City detachment wanted to recognize this major historical milestone in a way that would celebrate the past and show the pride of the RCMP in Red Deer.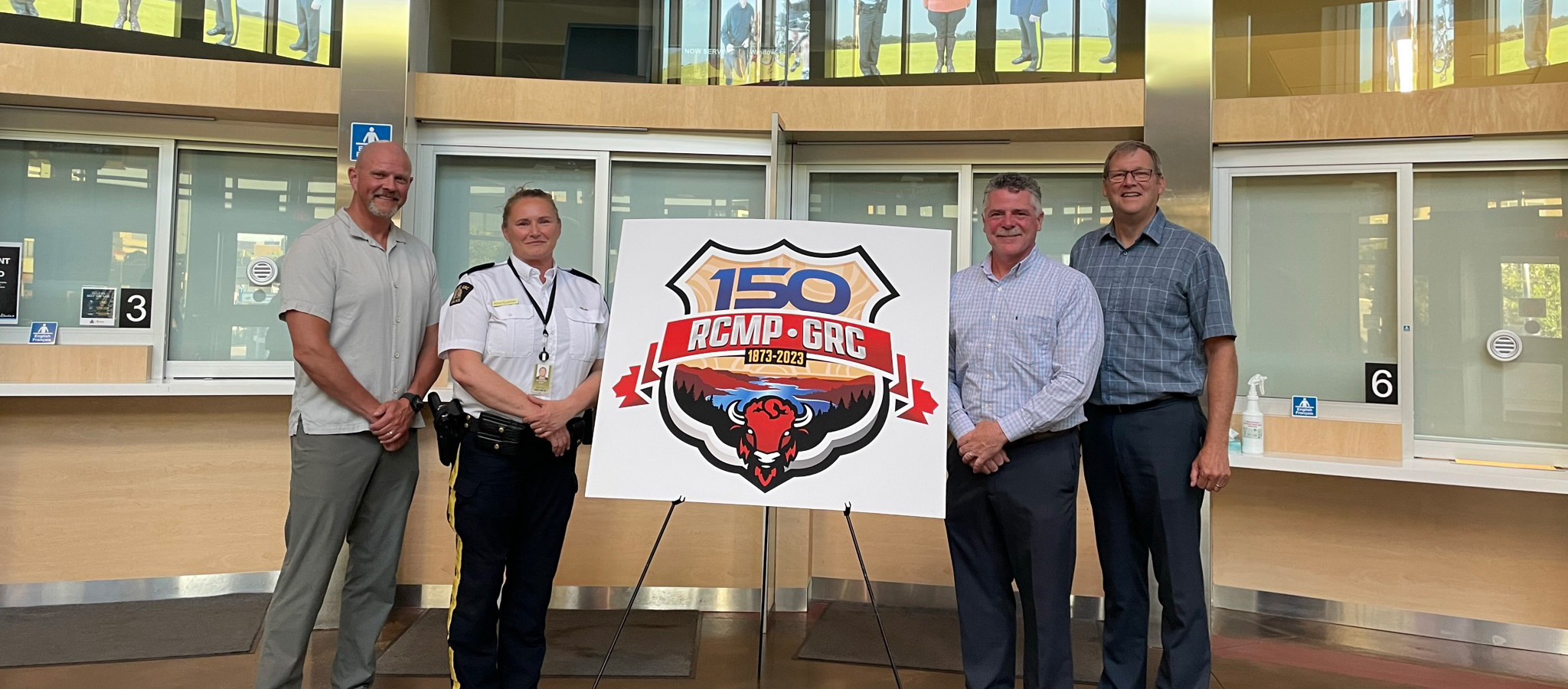 Photo: Four of the Officers in Charge for the Red Deer detachment
(L-R): Former Superintendent Gerald Grobmeier (2019-2021), Current Supt. Holly Glassford (2021-current), Former Supt. Ken Foster (2016-2019), and Supt. Brian Simpson (2006-2011)
It also created an opportunity for the service to explore the path of a more modern, inclusive, and trusted RCMP.
With 175 members, and dozens of municipal support staff, Red Deer is Alberta's biggest RCMP detachment, and a representation of strong urban RCMP in Alberta. As such, the Red Deer RCMP's goal was to host events that inspire and educate our community about the RCMP's history as well as honour those who have served in our community throughout the years.
This led to the idea of creating a "pop-up" museum in the detachment's community room. Items were kindly loaned to us from the personal collections of current and retired RCMP members, as well as some archival photos and artifacts generously loaned to us by the Red Deer Museum and Art Gallery, the Waskasoo Environmental Education Society (and their Fort Normandeau collection), and The City of Red Deer Archives department.
For two weeks in June, members of the public were invited to tour the museum and meet with RCMP members and Veterans who volunteered to operate the museum. These guides offered a wealth of knowledge to the public as they walked through the exhibits, engaging them in thoughtful conversation, explaining artifacts and insignias, and recounting their own memories as RCMP members. School groups were also offered tours of the rest of the detachment. One of our bilingual members even provided tours to French immersion students en français!
On opening night, we hosted a special "preview" event for current and past Red Deer RCMP members and their families. We had the privilege of having three of our past Officers-in-Charge in attendance, along with many other retired and current members.
We had many items on display, including a full female kit from the early 90s (which included a skirt, dress shirt, and Red Serge jacket, dress heels, hat and purse!), items from Supt. Glassford's time in the Northwest Territories, pieces from our Indigenous community, photos from City Archives, items from Fort Normandeau, including a buffalo coat and uniforms from the North West Mounted Police era, and memorabilia throughout the decades. Take a look at the pictures included.
Over two weeks, we welcomed nearly 200 students, ranging from Grade 1 through 5, and an estimated additional 150 to 200 people view the museum. Thank you to everyone who joined. We received many kind compliments and thank you's!
Lastly, we want to extend a very special thank you to the RCMP Veterans' Association members that participated in our museum – Marcel, Bev, Jay and Don – and to everyone that donated or loaned items to the 150 Pop-up Museum. Thanks to the sales generated by the KDIV RCMP 150 memorabilia store, Red Deer RCMP were able to make a donation of over $1,000 to the Red Deer Vets Association.
Cst. Francois Nadeau explains the
pins to a group of grade 4 students.

Cst. Sandra Geiger poses with her
daughter, dressed in Fort Normandeau
costume, and the full female uniform kit.