Reflecting on the reception centre
September 20, 2023
From August 17 to September 18, The City of Red Deer supported more than 1100 evacuees from the Northwest Territories whose homes were threatened by wildfire.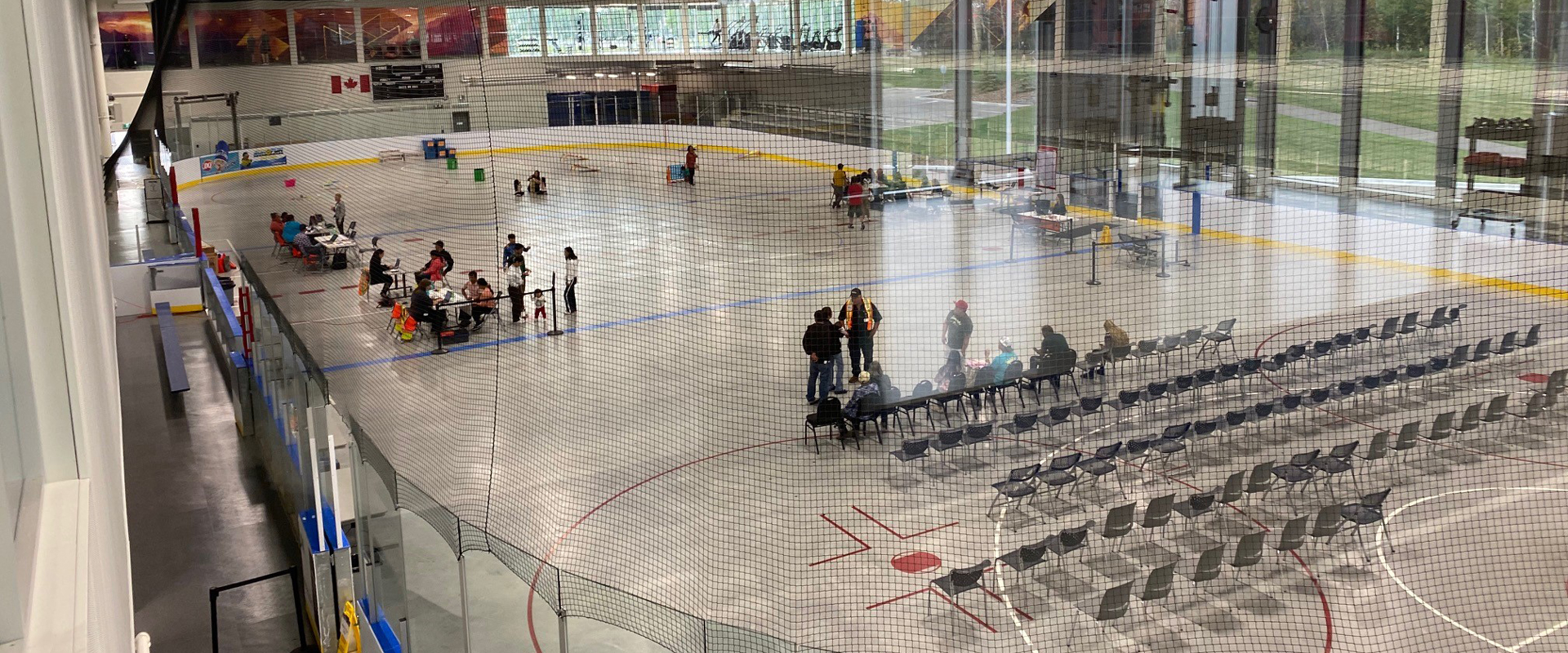 When thousands of Northwest Territories residents were ordered to evacuate, many communities in Alberta were called upon to receive evacuees in their communities. Immediately, The City of Red Deer mobilized our reception centre at the G.H. Dawe Community Centre. The Emergency Social Services (ESS) team sprang into action to secure lodging and food for evacuees, arrange for pet care through the Central Alberta Humane Society, and coordinate social support through AHS's Addictions and Mental Health Services.
Those first few days saw 24-7 operations, urgent calls to hotels and restaurants, and a flurry of information coming both in and out of the reception centre. On Thursday, August 17 road-weary evacuees, some who had been travelling for 23 hours, began to arrive at the Dawe Reception Centre. Exhausted and overwhelmed, some evacuees burst into tears as they were welcomed by our ESS crew. ESS team members heard many thanks from evacuees for the quiet, serene space, the welcoming faces and organized, supportive staff ready to help.
What is ESS?
The role of the Emergency Social Services (ESS) team is to register and take care of the basic needs of evacuees while they are displaced from their homes.
"Our job is to connect people with the resources they need, when they need it," said Carol Lind, Emergency Management Coordinator. "We received a wide array of individuals, from expectant mothers in need of prenatal care, to people seeking to lodge their pets while they stayed in hotels, and families in need of basic essentials like diapers and formula."
Within the first few days, reception centres in more northern communities quickly reached capacity and the number of evacuees coming to Red Deer rose dramatically. Ready to receive 1,000 evacuees, Red Deer surpassed that capacity by August 24.
Both Caroline Cochrane, Premier of the Northwest Territories and Stacie Arden-Smith, Deputy Mayor of Yellowknife paid a visit to Red Deer's reception centre, expressing their gratitude for how our community had stepped up to provide such compassionate care for their people.
Community Pride
As evacuees settled in, our community strived to find ways to help evacuees comfortably call Red Deer their temporary home. Many community groups and businesses reached out to offer free or discounted kids activities, workout classes, art classes and entertainment, education and remote-work space opportunities. City transit and recreation centres were made available free-of-charge to all evacuees, and ESS staff compiled lists of free resources and activities the NWT residents could take advantage of while in Red Deer.
"We had an outpouring of support from the community, with many people offering to donate their time, money and items. Many acts of kindness were present in Red Deer this summer, and we're incredibly proud of how quickly hotels and restaurants responded to the call for help," said Lind.
Heading Home
On September 6, Yellowknife, Dettah and N'Dilo residents were welcomed home, followed by Hay River and the K'atlodeeche First Nation on September 17. Lastly, Fort Smith residents were able to return to their communities on September 18. As the last of the evacuees left our city, the reception centre finally ceased operation on Monday, September 18.
"This was the longest Emergency Social Service response The City of Red Deer has ever provided. Over 33 days and approximately 324 hours!" explained Lind. "We have many learnings from this event and I am very proud of the response from our team."
With things returning to normal, The City of Red Deer sends thanks to our residents, businesses and volunteers for supporting in every way possible. And to our evacuees who gave us so much love back – thank you, and we're happy you called Red Deer home (even if it was for just a little while).
The Numbers
Welcomed 1129 evacuees from the Northwest Territories.
Reception centre was mobilized for 33 days, operating for a total of 325 hours!
Partnered with 69 restaurants to provide meals to evacuees.
Worked with 23 hotels to lodge 700+ evacuees choosing to stay in hotels.
Distributed thousands of pounds of pet food through the Central Alberta Humane Society.
Received $25,000 grant from the United Way to support evacuees with essential supplies.
100+ City employees supported the ESS.
AT least 2 NWT babies born while in our community (possibly more).
Boarded 1 dog sled teams, plus dozens more dogs & cats!
1 pesky bat caught!
Special Thank You To
Baymont Hotel and Suites
Best Western Plus Red Deer Inn & Suites
Comfort Inn & Suites
Hampton Inn & Suites
Holiday Inn Express South
Holiday Inn Express North
Holiday Inn & Suites Red Deer South
Quality Inn
Radisson Hotel
Ramada Inn
Staybridge Suites
Sandman Hotel Red Deer
The Suites
Western Budget Red Deer 1
Western Budget Red Deer 2
Sylvan Lake Hotels
Blackfalds Hotels
Blackfalds Motor Inn
Microtel Inn & Suites by Wyndham
Lacombe Hotels
Travel Lodge Lacombe
Best Western Plus Lacombe Inn's and Suites
Red Deer Restaurants
ABC Country
Albert's Family Restaurant / Same Old Dave's
Anthony's Italian Kitchen
Bo's Bar and Grill
Booster Juice

G.H. Dawe Community Centre
Collicutt Centre
144 Leave Ave
6206A 67 St

Boston Pizza South
Boston Pizza North
Boulevard Restaurant and Lounge
Cafe Millennium
Carl's Jr.
Chillabong's Bar & Grill
Cilantro & Chive
Cowtown Beef Shack
Earls
Edo Japan Gasoline Alley
Fat Burger
Famoso Italian Pizzeria
Forno Italian Restaurant / Hash Eatery
Garden Terrace Lounge
Gasoline Alley Indoor Farmers Market
George's Pizza and Steakhouse
Indian Flame
Jake's Restaurant & Grill
Jollibee's
Jumble Eats Restaurant
McDonald's

585 Laura Ave.
41 Petrolia Dr.
7149 50 Avenue
2502 50 Avenue
6375 50 Avenue
4840 52 Avenue
2010 50 Avenue
#800, 3020 22 Street
#300, 16 Conway Street
#300, 6702 Golden W Avenue

Mohave Smokehouse
Montana's BBQ & Bar
Moxies
Pampa Brazilian Steakhouse
Papa Baldy's Pizza
Phil's Restaurant
Piccolo's Pizza & Pasta
Ricky's Cafe
R&R Grill
Sunset Grill
Tandoor N Flame Indian Restaurant
Tim Hortons - Downtown Location
Wayback Burger
West 67 Grill
Blackfalds
Boston Pizza Blackfalds
Lokal Kitchen
McDonald's
Piccolos Pizza & Pasta
Subway
Sylvan Lake
Boston Pizza
Edo Japan
McDonalds (50 Hewlett Park)
Wendy's (3715 47th Avenue)
Lacombe
Cilantro & Chive
Dairy Queen Chill & Grill (5263 45 Street)
Eastside Eatery
McDonalds (5510 Highway 2A)
Moe's Pizza
Tollers Bistro
Gift Cards
Red Deer Regional Airport
Integrated Sensing & Surveillance Inc.
Telus
Hygiene Kits and Diapers
This list is by no means exhaustive; our apologies to anyone we may have missed in error.