Sew Inspired
April 20, 2020
Christine Engel, owner and operator of The Wedding Seamstress, took on a new challenge when business slowed due to the COVID-19 pandemic.

As a busy mom of two, she could have taken this time to settle into this new reality, but instead she decided to put her talents to use - making medical gowns to protect volunteers at The Mustard Seed.
Christine started to think about how she could help after hearing about the provincial "Bits and Pieces" program. Wanting to help on a more personal level, when she heard that The Mustard Seed was seeking the help of a seamstress to create medical gowns, she knew it was the right fit.
"Since my calendar had recently opened up, I thought I would give them a call, but I wanted my help to be meaningful, to matter, I didn't want to help just to say I helped."
Needless to say, her help will matter a great deal. She has been tasked with creating 190 gowns for the Red Deer and Calgary Mustard Seed locations, and in-turn has asked the community for help to fulfill the order as quickly as possible.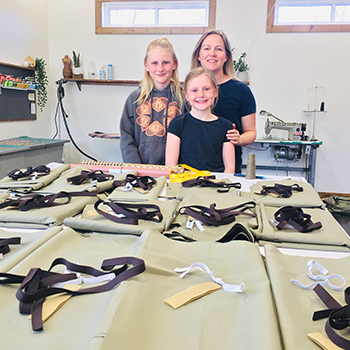 Christine is volunteering her time and had asked that anyone in the community with sewing equipment and experience to lend a hand. In just a few short days, Christine had over 40 women reach out and offer their services as well. Each volunteer is creating multiple gowns to help complete the task, a true representation of the old adage, 'many hands make light work.'
The project is truly a family affair. Christine reports that her two daughters, Ellabelle (11) and Olive (9), have proven to be valuable apprentices, as they prepare the material for sewing which is then used by Christine, or dropped at the door of one of the many volunteer seamstresses.
Christine is juggling in this new life just as the rest of us; she is a mom, the wife of a first responder and a business owner learning to adapt in this new reality. But here she stands ready to give. Thank you!
Christine says she is no longer in need of additional help. Her and her crew of seamstresses will be able to fulfill the order thanks to an incredible act of community. Learn more about ways you can help the community here.