Team Saskatchewan feels 'right at home' here
February 20, 2019
Decked out in green and gold, a look of pride and honour on their faces, with the Saskatchewan flag waving behind them, it was no surprise which team Wonda Striemer and her husband Ian were cheering for at the Gary W. Harris Canada Games Centre today.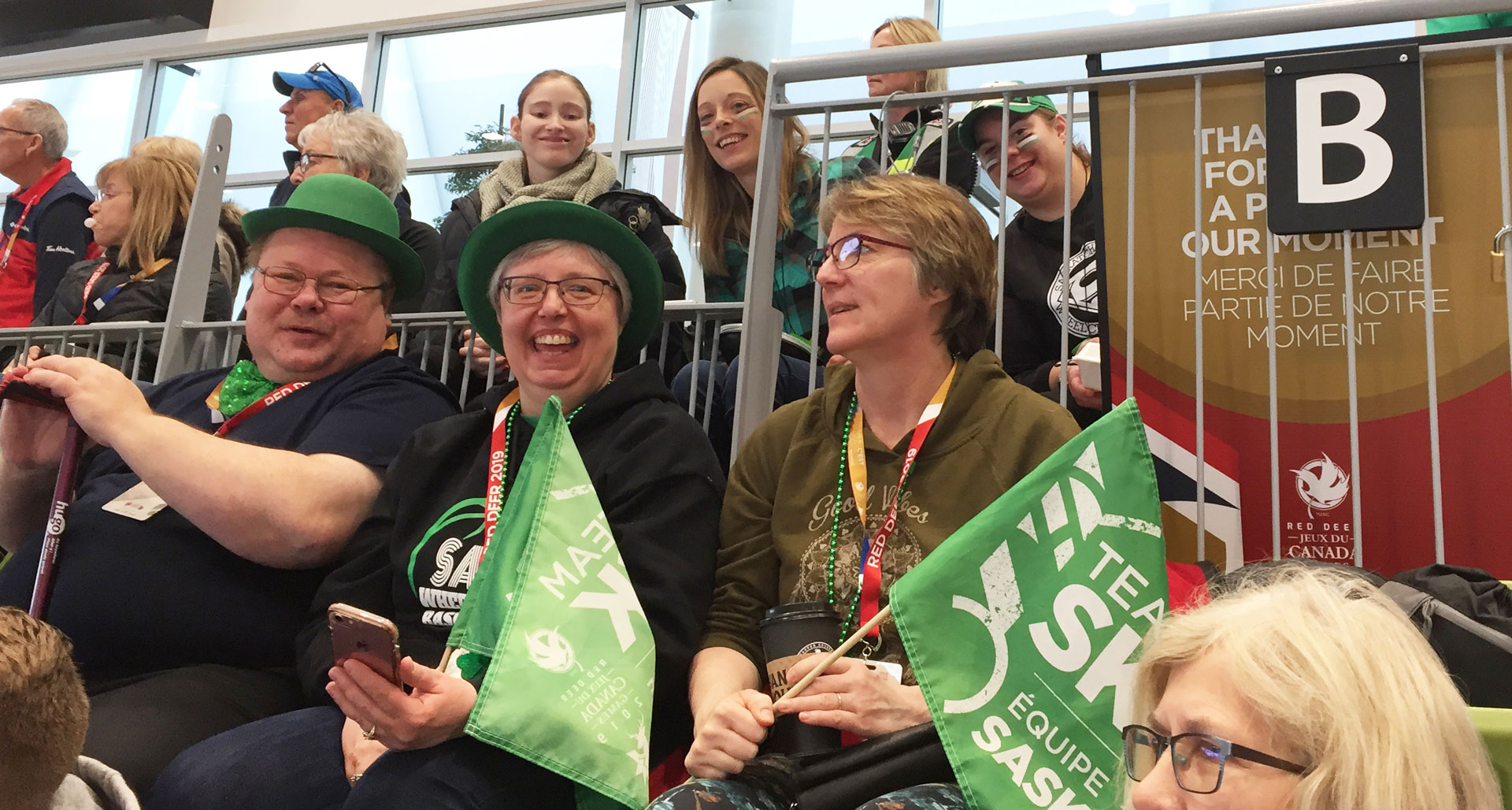 The Striemer's arrived in Red Deer last Friday, in time to take in the Opening Ceremonies, and have been cheering and celebrating ever since.
Their son, Jared, plays on the mixed wheelchair basketball team, representing Saskatchewan. From their hometown of Saskatoon, the team is comprised of players hailing from Regina and Saskatoon.
Wonda and Ian felt a sense of familiarity when they arrived in Red Deer. "It feels like Saskatoon used to feel back when it was a bit smaller," Ian said. "Red Deer has everything you need, but we can get from one end of the city to the other with ease. It just feels, you know, good here."
They joked that we even planted some critters to make it feel more authentic. "We came downtown to check out the ice sculptures and saw three deer running down the street in front of us," they said. "It was amazing."
They are also enjoying the nice break from the deep freeze, "back home it's like minus 20 degrees right now, so the weather yesterday and today has just been so awesome."
Since arriving in Red Deer, the Striemer's have been able to take in lots of sporting events, cheering on their favorite province when they can, as well as take in the cultural and entertainment events down at the 52° North Music + Cultural Festival and around downtown. "We've been all over Red Deer, taking in the entertainment and concerts, it's really been a wonderful experience," they shared.
Jared, #5 on the team, first became interested in wheelchair basketball about three years ago and has been hooked ever since. "He just loves playing so much," his mother Wonda shared with pride. Unfortunately there is no medal in the team's near future, but they have had such a great experience, they said that part doesn't even really matter "although, that sure would have been nice," Ian added.