Rip 'n Rec Pass: a summer of unlimited fun
July 27, 2018
Introducing Red Deer's version of the Golden Ticket: unlimited rides on Red Deer Transit and unlimited access to City recreation facilities all summer for youth ages six to 17.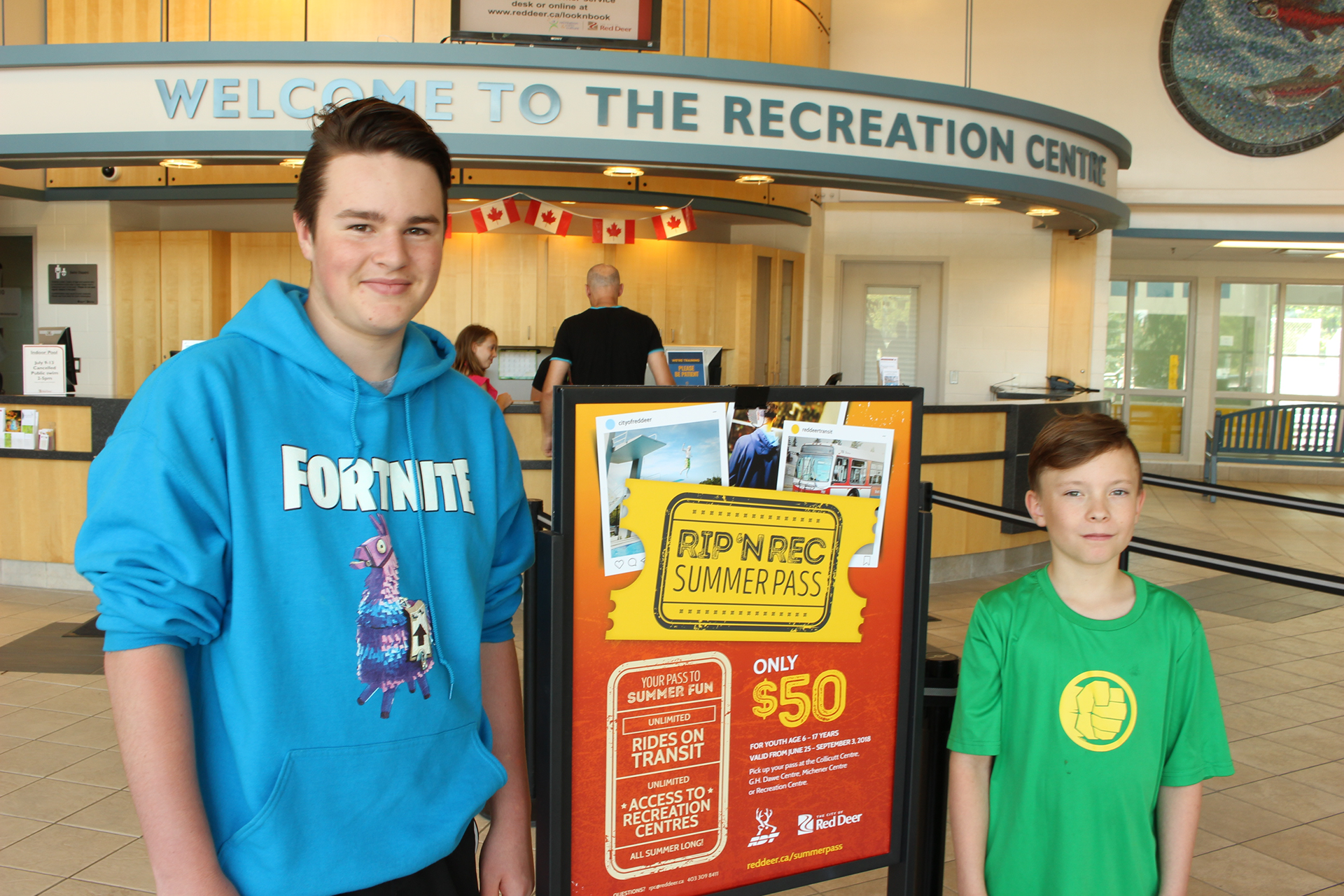 Unlimited access to anywhere you want to go, all summer long. That's what Ethan and Kaiden's parents promised them as they handed over Red Deer's version of the Golden Ticket. Armed with two Rip 'n Rec passes and their gym gear, the boys are ready for endless summer days filled with fun, laughs, and sweat.
Introduced last year, the $50 Rip 'n Rec Summer Pass offers youth age six to 17 unlimited rides on Red Deer Transit and unlimited access to any City recreation facility all summer.
The boys have a long list of activities they want to do this summer; basketball at the Collicutt, maybe the rock climbing wall too, definitely the outdoor pool on an especially hot afternoon. Kaiden and Ethan are best friends, and when one starts to talk about his favourite memory from last year, the other boy quickly interjects with pieces of the story the other one misses.
"I might go to the Michener Centre this summer. They have a basketball hoop in the hot pool," Kaiden remarks excitedly. To which Ethan leans over and whispers, "Oh! I'll go with you."
Unsurprisingly, it's the boys' parents that introduced the Rip 'n Rec passes to them. The pass gives kids the freedom to go where they want, when they want, without relying on a parent to get them there, an invaluable resource for working parents trying to keep their kids busy all summer.
"They were asking to go somewhere almost every single day, so it certainly cut down on the amount of driving we had to do," said Ethan's father, Kevin.
The passes are also cost-effective with their one-time fee covering the cost of admission to the various facilities, as well as the transit costs that could otherwise quickly pile up. While the passes do cover those costs, there's no free Chocolate River or Candy Gardens. "You still have to give them spending money for the vending machines," Kevin says, "though we certainly put a cap on that."
The boys were power users of the passes last summer, both accessing facilities over 40 times in two months. Will they beat their record this year? Time will tell, but the program has certainly demonstrated popularity and success, with over 1,100 passes sold by July 2018, a substantial increase over the 917 passes sold in its pilot year.