Two Shovel Howard: A snow buddy story
February 07, 2020
The residents of a small close in Rosedale get to experience the kindness and generosity of a thoughtful neighbour working to keep their walks and drives clear of snow, every chance he gets.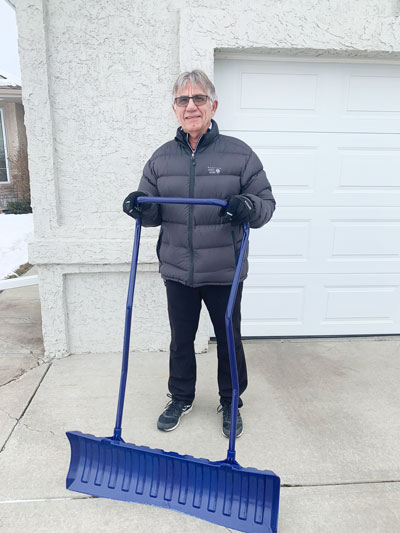 Howard, better known as the "two shovel man" in reference to the amount of shovels he can go through over a winter season in Red Deer, rises early in the morning if there has been snow to clear the driveways and sidewalks of neighbours.
"Howard is a retired teacher that lives in our close. He is an incredibly kind person that always goes out of his way to help other people in the neighbourhood," said Jack, the neighbour that nominated Howard for The City of Red Deer Snow Buddy contest. "A lot of people in our neighbourhood are very grateful for what Howard does every winter."
Why does Howard work so hard to keep snow off his neighbours drives and walks? He says he loves shoveling driveways because he gets to know everyone in the neighbourhood, which in turn, makes them all feel safer.
All his neighbours can agree, Howard is truly a Snow Buddy, and, as Jack says "just an awesome person."
Don't forget to nominate the Snow Buddy in your life. From now until February 28, 2020, tell us your Snow Buddy Story and enter to win a $150 Visa gift card. Visit reddeer.ca/snowcontest for all the details.