Val-unteer - one woman's dedication to community
May 21, 2021
Volunteerism is part of the glue that holds a community together.

Through the pandemic, the face of volunteerism, or the opportunities that present themselves may look a little different - but it still takes a giving person, a worthy cause and a desire to leave a positive impact on your community. Volunteers come in all types and fight for all different causes, but their giving hearts tie them together.
If you happen to walk by her neighborhood park or outdoor space, you wouldn't be surprised to see one such volunteer playing a game of 'grounders' or 'tag' with the neighbourhood kids at full speed. Val Jensen is one of our community change-makers, and it starts right in her own neighbourhood. When she's tired out one group of kids, she'll encourage others to join her in a new game. When asked about what gives her the 'spark' that keeps her playing, she says, "active living, leads to happy living," and anyone who knows Val, knows she lives by this mantra.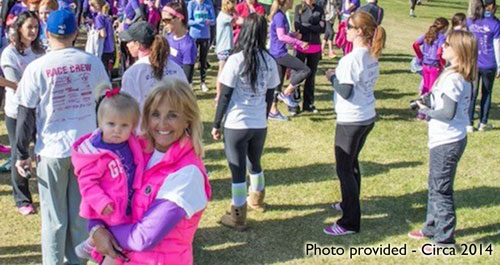 As a triathlete, dance instructor, race director, skier, not-for-profit supporter, and avid community volunteer, it was no surprise that nearly 10 years ago, Val came up with a new idea to get the community moving. What started in 2011 as the Only Women's Fun Run with 350 ladies, has grown tremendously and has been reimagined to become the Red Deer PCN Women's Aloha Fun Run, one of Red Deer's signature annual community events. On May 8, 2021, the event was modified due to COVID-19, however it continued to engage over 1,300 participants of all ages, genders and abilities.
"COVID-19 has been a bit of a moving target. We adjusted so that all of our participants were safe and could stay healthy," says Jensen.
Participants completed one of multiple loops throughout the city, without a specific start or end time, so that household groups were able to run or walk together, while keeping a safe distance from others.
"Anything that I can do to encourage other people to be active, to play, or be outside, I am going to do it. We set out 10 years ago to get women (and now families) more active, and we were still able to do that", says Jensen. She continues, "I honestly believe that Red Deer is the best community in the world and hope that my contributions to an active outdoor community can add to that."
In the true spirit of volunteerism, Val has coined the Fun Run as a 'Friendraiser,' and has in-turn donated proceeds from registrations and sponsors to charities within Red Deer including Family Services of Central Alberta, Women's Outreach and The Mustard Seed School Lunch Program. In the past three years alone, they have raised approximately $195,000 for the Mustard Seed Lunch program, which ensures all kids have access to a healthy lunch meal, every day.
Val is quick to point the praise to the team, instead of towards herself. She continually applauds her sponsors and supporters, and those that she has 'Val-untold' to participate in a volunteer capacity over the years. It is this passion and commitment to the community that brings everything that Val touches to the highest standard.
After 10 years of dedicated community service through the Red Deer PCN Women's Aloha Fun Run, Val feels confident it is time to pass the reigns to the next generation. Although she may be stepping back as one of the leaders of this event, she has left her mark on our community through her volunteerism and ability to bring people together. When asked about her future, Val plans to keep being active in the community and playing outdoors while slowing down to spend more time with her grandchildren, family and friends. However, anyone who has met Val knows that slowing down won't come easy, as she only has one speed - fast. Which idea she will come up with next is yet to be determined but whatever it is, it is sure to have Val Jensen's signature spunk, zest for life, and unyielding love for active living.
Our community is better off because of the dedication and drive of our many powerful volunteers, just like Val.
Congratulations on another successful community event, even in the face of adversity!