What's good for the goose…
April 21, 2020
There are a handful of animals that, over the years have become synonymous with Red Deer.

Mascots like Francis the Pig, the Rebels' Woolly Bully, and more recently a gaggle of Canada Geese that now calls Great Chief Park home. You may have seen the statues, made of aluminum and river rock, on the way to Bower Ponds. They've been dressed in costumes for Halloween and bundled up in toques and scarves for the winter. These days however, it's all about preventing the spread.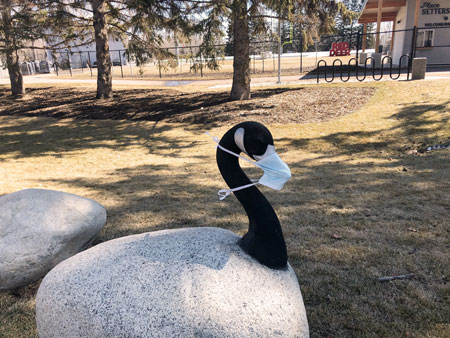 "I thought something like this would bring a smile to folks' faces. So I drove down to Bower Ponds and put them on," says the man who equipped the birds with their very own PPE. He prefers to remain anonymous while giving Red Deerians a reason to smile. "I had a couple of used, left over masks from some of the woodworking I do in the garage. I figured instead of throwing them out, might as well use them for something fun."
While there is no solid research suggesting Canada's famous flock of V-formation flyers are susceptible to the COVID-19 virus, two of the geese are now sporting protective facemasks, like many Canadians during the pandemic. "We must have had four or five cars stop and take pictures. Joggers were stopping and laughing," he says. Giving a chuckle to passersby is part of the reason he did it, but there's also a serious message.
"Both my parents are emergency services workers. My Mom is a nurse and my Dad's a firefighter; they're both retired now. It's good to see things that remind you that there's folks out there wearing these masks for 12-hour shifts every day, that are taking care of us."
If you're out enjoying the trails in the coming days, please do so responsibly. Keep your distance from other people (at least 2 metres or 6 feet) and avoid touching things like handrails or garbage can lids. You can see the masked geese for yourself, just outside Setters Place at Great Chief Park. The man who put them there says he hopes it gives people a reason to be hopeful.
"I hope that it brings a smile to some faces and we can all just get through this. We're all in this boat together."