Winter Cycling – An Alternative Commuting Option
January 16, 2019
Winters can be tough in Red Deer. Driving through snowstorms, ice-cold winds and freezing rain can be a challenge. So, to combat the winter commute, some Red Deer residents have taken an alternative approach to get to and from work each day.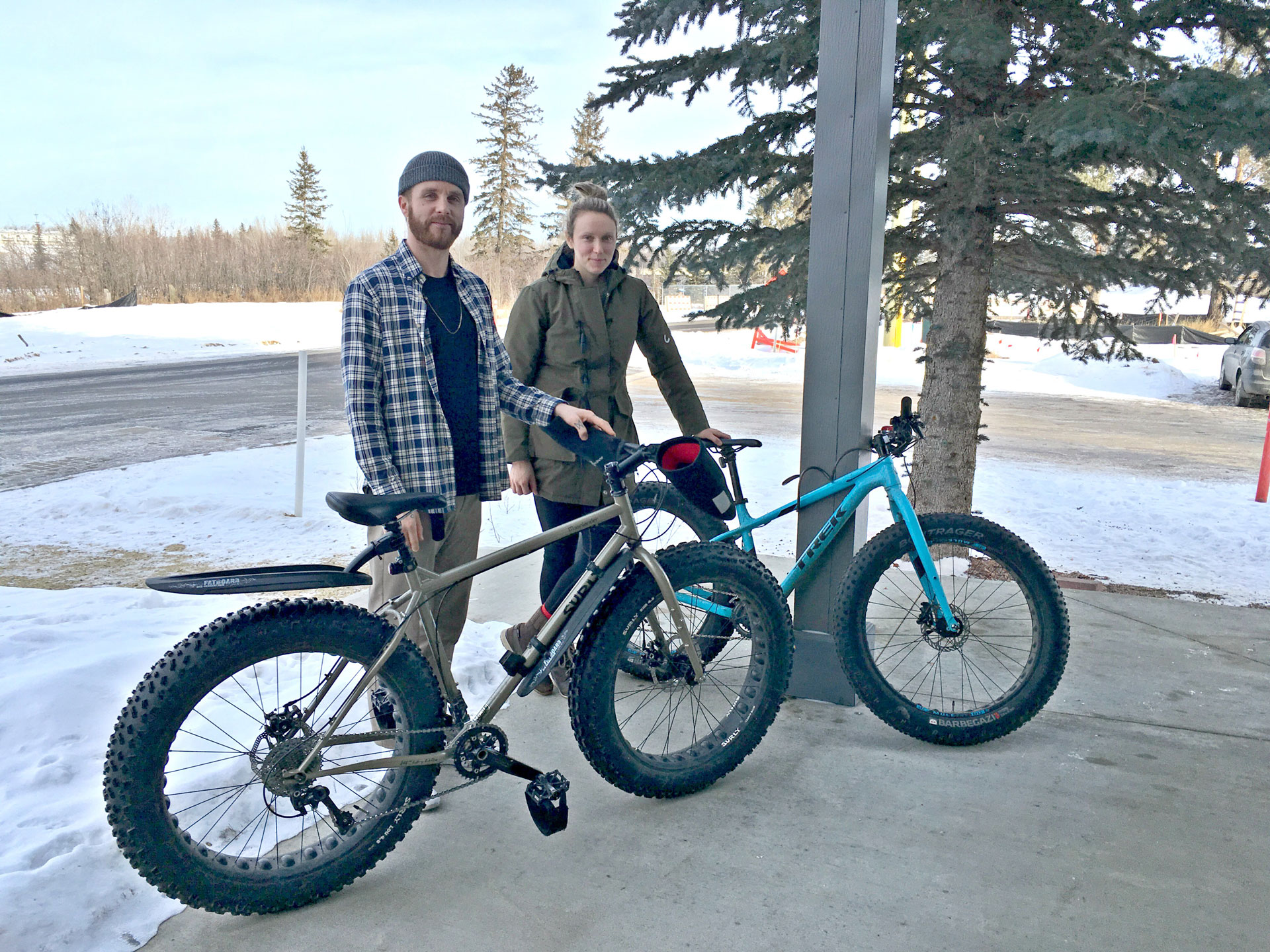 Meet Rolland Forsland and Sonya Mac Donald. During the winter, instead of scraping windshields and navigating snowy city streets with a vehicle, they choose to hop on their bikes and ride to work instead. Sonya has been cycling from her home in Lancaster to her workplace in Riverlands, for about two and a half years, and Rolland, who has cycled to work during the summer for about four years, has just started commuting by bike during the winter.
"Not only is cycling more economical, but it also wakes you up and gives you the energy to start your day," said Sonya. "By cycling to work, I get in a workout without even having to think about it."
"It's quicker to ride my bike than drive," said Rolland. "I don't have to worry as much about car maintenance or the stress from driving. Plus, I like that I'm doing my part to reduce congestion on the road."
Commuting by bike benefits the environment through reduced vehicle congestion and greenhouse gas emissions. Moreover, it may even help you reduce waste.
"I got a good backpack with a waist strap this year to help with carrying things," said Sonya. "I can even fit all my groceries in the pack. It's good because it really makes me think about what I'm buying and if it's necessary, because I know I'll need to carry it on my back. Riding a bike helps me plan and reduce what I buy."
Proper gear is essential, and both Sonya and Rolland say dressing in layers is key. They recommend a warm thermal base layer with a heavier, wind resistant layer on top, along with some mittens to keep warm. However, you really don't need anything special to start cycling during the winter.
"Just find what you already have for winter gear and use that," said Rolland. "However, the one item that is necessary to have is a set of good quality lights."
Winter months have fewer daylight hours, which means riders will be commuting in the dark. The front and rear lights are a safety feature to help brighten the path of the cyclist and help drivers and other cyclists see them.
For equipment, both Rolland and Sonya prefer fat bikes. This popular style of bike has wider tires, which give a lot more grip and stability in icy spots or deep snow.
"I haven't wiped out yet!" said Sonya. "The fat bike definitely stands out. It gets a lot of looks and turns a lot of heads!"
Commuting by bike takes a bit of planning in the beginning. It may mean finding a new travel route or checking out the trails and bike routes near you. The City of Red Deer Bike Map or Google Maps are great tools to help you with planning.
To get started, both riders say just to get out there and try it! Talk to other cyclists or visit a bike shop here in the city to get you going. It's fun, challenging and a great alternative to consider for your daily commute.